Prom Shoes And Accessories To Match Your Prom Dress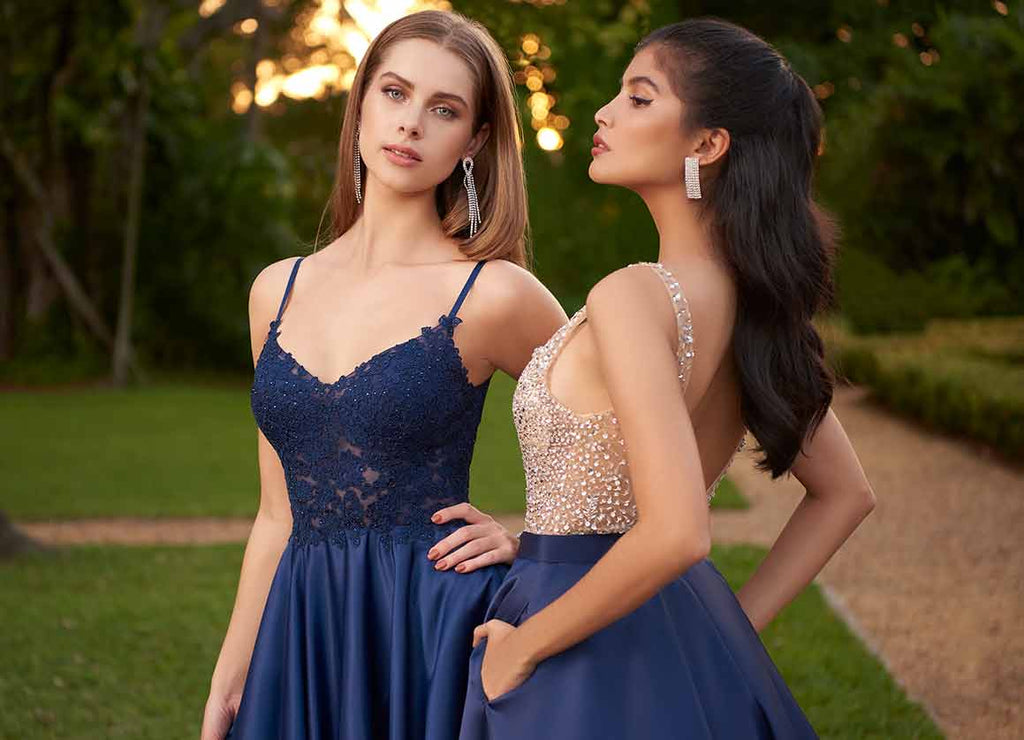 xNow that you've found the perfect prom dress, let's talk prom accessories. While finding the right formal dress is a crucial part for the big night, it is only the beginning of the exciting choices that you may wish to make. Prom accessories such as jewelry, prom shoes, and the all-important bag or clutch can pull your look together to present the ideal version of yourself that is sure to shine at prom.
CHOOSING PROM ACCESSORIES FOR YOUR PROM DRESS
Let's start with prom jewelry. An important part of your ensemble, prom jewelry accents your gown and enhances your personal style. You may want to follow these basic rules: If your dress has classic gold or silver embellishments, it's best to stick to prom jewelry with a similar color scheme. From head to toe, keep the same color tones, bearing in mind that if you need to match your jewelry to the sparkling accents on your dress, rhinestones reflect better with gold and pearls go best with silver. Here's a selection of prom jewelry that partners well with different styles of prom dresses to achieve a beautifully cohesive look for your formal event.
EARRINGS FOR PROM
The prom dress that you have selected may determine the choice of earrings for prom. Choose simple earrings or small delicate pieces if the shoulder and neck area of your formal dress is heavily embellished. Delicate simulated pearl earrings, small gem cluster earrings, edgy geometric crystal earrings, small hoops, and studs are ideal prom earrings if your formal gown is heavily beaded. A strapless prom dress or unadorned prom dress allows you to choose a larger, more opulent style of prom earrings. Intricate dangle earrings, drop earrings, linked drop earrings, long geometric earrings, large hoops, and chandelier earrings add interest and glamour to your formal dress.
Hairstyles may affect your choice in earrings as well. Choose a bold or larger pair of earrings if you wish to wear your hair down so that your prom jewelry shows beautifully against long curls or straight shoulder-length tresses. A more dramatic updo calls for prom earrings that are simple and clean, yet complement the formal dress without competing against it. Why not accessorize your hair for prom? Gorgeous crystal tiaras can accent the most elegant of prom dresses while making the wearer feel like a princess.
NECKLACES AND BRACELETS FOR PROM
Necklaces and bracelets can be a fun addition to your prom attire. A low v-neck prom dress looks beautiful with v-shaped pendants, while a scoop-neck dress looks better with a shorter pendant with larger details. A choker-style necklace adds a chic look to a strapless prom dress, and a halter-style formal dress is beautifully accentuated with a slimmer pendant. Long strands of beads are ideal for bateau-neck evening dresses, and mid-length statement pieces are excellent choices for prom dresses with sweetheart necklines. The color and finish of the necklace should coordinate with the the bracelet, if you choose to wear one. Feel free to wear a simple bracelet with embellished sleeveless prom dresses and strapless formal dresses. You may want to avoid wearing a bracelet with a long-sleeve dress or lace prom dress.
SHOES FOR PROM
Who doesn't like shoe shopping? The perfect prom shoe choice depends on the style of your prom dress! A solid color formal dress offers you a clearer