Glossary of Fashion Definitions & Prom Dress Terms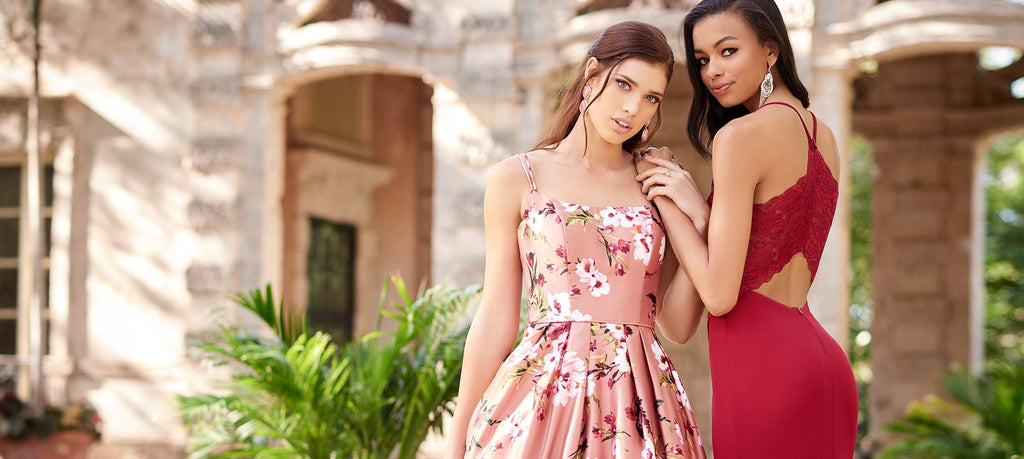 Ready to start hunting for that perfect prom dress? Well, the styling of the dress is all in the details. It's important to familiarize yourself with the prom dress features to make the ultimate fashion statement. Knowing the meaning of all the latest and most common prom dress terms is key to unlocking a world of knowledge that not only makes finding that special prom dress more efficient, but it also makes it easier to identify all the right garment choices down the road. Stylish sleeves, novel necklines, and fancy fabrics are just the beginning of the exciting elements that make a design unique and flattering. Here you will find an extensive list of definitions for the most loved and popular dress terms. Explore all of the prom dress elements to build up your fashion vocabulary and find that one-of-a-kind design.
Prom Dress Cuts
The cut of a prom dress determines the shape of the garment, so it's no surprise that this is a very important dress detail. When exploring fashion terms, a-line dresses, fit-and-flare dresses, and ball gowns are just a few of the phrases that commonly pop up. Distinguishing between each of these cuts can help determine which styles are the most desirable for your personality and body type. Learn more about all of these prom dress cuts right here.

A-Line Dresses: Just like it sounds, an a-line dress gives the appearance of an "A" shape from the waist down. A-line formal prom dresses cinch the midline and gracefully angle out over the hips to flatter the figure. Many dresses for prom are a-line styles, complementing most body types.

Babydoll Dresses: Essentially a grown-up tutu, babydoll prom dresses are totally adorable with a cut that's young and girly. Babydoll prom dresses are often very short, cut well above the knee, and very full in the skirt. Cinched at the waist, babydoll dresses are generally lined with wispy tulle fabric to create volume and structure.

Ball Gowns: Ball gown prom dresses evoke the style of a storybook princess. Fitted in the bodice and cinched at the waist, ball gown prom dresses feature full, floor-length skirts. Ball gown prom dresses camouflage the hips and legs with voluminous layers of flowing fabric.

Bodycon Dresses: Hugging every part of the body with smooth fabric, bodycon dresses are an amazing way to highlight the silhouette. Bodycon dresses are short and snug, making them a great choice for parties or date nights.

Fit-and-Flare Dresses: Fit-and-flare dresses gently hug the body, cinch the natural waistline, and then angle out dramatically around the hips. Usually cut above the knee, this dress style augments the curves by adding the look of volume to the lower half of the body.

Illusion Dresses: Illusion prom dresses are fashioned with sheer-mesh fabric along the back, sides, or neckline to give the appearance of more coverage. For instance, bold, solid fabrics may create a v-neck shape on the prom dress, while a barely-there layer of thin mesh forms a high neckline above it.

Knee-Length Dresses: Knee-length dresses extend halfway down the legs, stopping just at the knees. Not quite a short or long dress, knee-length dresses offer the best of both worlds. Knee-length dresses are easier to move in than long dresses, but provide adequate coverage for a modest look.

Mermaid Dresses: Mermaid dresses for prom allow you to channel the beauty of everyone's favorite sea goddesses. A mermaid-style prom dress hugs the body from the bodice down to the knees, before flaring out in a dramatic cut that exaggerates the figure. The idea of a mermaid's tail makes the design easier to visualize.

Off-the-Shoulder Dresses: Also called bardot dresses, off-the-shoulder dresses have a low neckline that extends down around the arms. This style is a great option for those that don't want a sleeveless dress, but prefer a prom dress that reveals the shoulders.

One-Shoulder Dresses: One-shoulder dresses sport a strap or sleeve, but only on one side of the garment. A prom dress with a one-shoulder neckline looks chic and modern, catching the eyes as it offers coverage over one arm.

Peplum Dresses: Dresses with fabric that is fitted in the bodice, but flares out in a layer at the natural waist is a peplum dress. This dress style camouflages the midriff, while allowing the rest of the design to hug the curves. Peplum dresses accentuate the figure, while providing a look that is totally unique.

Print Dresses: Print dresses are comprised of fabric decorated with bold or subtle patterns. Floral prints, stripes, polka dots, and animal prints are all popular examples of markings that can define this eye-catching dress style.

Sheath Dresses: Like a sheath to a knife, a sheath dress fits closely to the body. The fabric of a sheath dress gently hugs the curves from the bodice to the hemline, flaunting the figure. Sheath dresses are a popular style for cocktail party dresses.

Shift Dresses: With a relaxed fit, shift dresses are an ultra-comfortable option for on-the-go style. The fabric of a shift dress drapes softly out over the body from the neckline to the hem. Shift dresses are often casual and cut to give the appearance of a long shirt. Shift sundresses are a wonderful choice for outdoor parties and picnics, while shift dresses with glitzy details are ideal for moving with ease at a cocktail party.

Sleeveless Dresses: Flaunting the arms, sleeveless dresses come both with and without straps. Sleeveless dresses with adjustable spaghetti straps provide additional support and are amazing for finding that perfect fit.

Strapless Dresses: Strapless dresses are sleeveless dresses in which the bodice reveals the shoulders and arms without interruption. Offering a more sultry or romantic appeal to a prom dress, a strapless bodice highlights the upper body and sends attention to the face in a style that is incredibly flattering.

Two-Piece Dresses: Two-piece prom dresses are as fun as prom fashion gets. This untraditional style features a flirty top-and-skirt combo to highlight the waist. Two-piece prom dresses are the ideal choice for making a girly statement and looking fantastic with both long and short skirts.

V-Back Dresses: The top of the bodice is cut into a "V" shape along the back on a v-back dress. V-back dresses are an intriguing way to ensure a prom dress is interesting from every angle, while creating the appearance of length. Dresses with v-necklines sometimes don v-backs to keep the look consistent and add a hint of seduction.
Prom Dress Waistlines
Every prom dress cinches the body differently to highlight different features. How does this happen, you might ask? Prom dresses feature a variety of different seams or details that form a visible separation between the bodice and skirt, forming or camouflaging the waistline. Depending upon your body type or desired prom dress style, the waistline preferences can change. With so many options, familiarizing yourself with the fashion terms describing them is key. The waistline of a prom dress can be asymmetrical, empire, or natural, to list just a few. Find out about all of these fantastic features and more below.

Asymmetrical Waistlines: Adding a totally unique twist to prom dresses, or any garment for that matter, asymmetrical waistlines extend across the body at an angle to highlight the figure. Wrap dresses usually form asymmetrical waistlines.

Drop Waistlines: Normally dropping things is such an inconvenience, but dropping the waistline on a dress...can be gorgeous! Wrapping around the body below the natural waistline, drop waistlines visually elongate the torso. Drop waistlines are defined by a seam, band, or accent around the hips that visually separates the bodice from the skirt. Drop waists are a little less common than natural-waistline dresses, but girls with curvy hourglass figures can appreciate the stylish addition of a drop waist.

Empire Waistlines: Classically beautiful, dresses with empire waistlines are ideal for flattering the figure. Empire-waist dresses typically camouflage the midriff with skirts that start much higher than the typical dress. No wonder dresses with empire waists are so popular! A seam right below the bustline in this dress style signals the end of the bodice and the beginning of the skirt. While not always the case, dresses with empire waists typically have skirts that flow out to their hemline.

Natural Waistlines: When the seam that separates the bodice of a dress from its skirt falls right in the middle of the waist, it is called a natural waistline. The natural waistline circles the body below the ribs, right above the belly button. These waistlines can be very flattering, highlighting the midline in figure-hugging dresses or forming the point at which fabric typically extends out in an a-line skirt.

Princess-Cut Waistlines: Designed with royalty in mind, dresses with princess-cut waistlines appear to have come straight from the closet of a medieval beauty. Princess waists actually lack a defined waistline, hugging the body with no clear distinction between the bodice and skirt of a dress. This charming look adds almost automatic splash of elegance to any prom dress as visible vertical seams or boning usually line the dress.
Prom Dress Back Styles
Want a prom dress that's intriguing from every angle? Let the back of your prom dress do all of the talking with interesting details that make your gorgeous attire stand out from the rest. One might never guess, but there are many different alluring cuts to spice up the back of a prom dress. From backless dresses to t-backs, explore all of the prom dress back styles you'll need to know here.

Backless Dresses: Backless prom dresses are highly fashionable and quite seductive. In this popular prom dress trend, fabric covers the front, waist, and legs, but leaves the back completely revealed. Backless prom dresses often have caging or some variety of eye-catching straps, but the back is left uncovered down to the waist.

Corsets: Corsets make any prom dress look like an up-to-the-minute design with a structured, and seductive bodice. Flexible boning usually lines the bodice of a corset dress making a princess-inspired fashion statement. Sometimes a zipper is used in corset dresses, but more often than not, a lace-up bodice graces the back.

Open-Back Dresses: Open-back dresses come in many different styles, but all of them leave the back exposed. Open-back dresses can have straps or ties, or can be completely bare. Dresses with absolutely no coverage along the back are also known as backless dresses.

Racerback Dresses: Fabric angles out from the neckline of a racerback dress to wrap around the body under the arms. Racerback styling offer a sporty twist to any dress by highlighting the shoulders through cut-out sides.

T-Back: Forming a "T" along the back with straps, t-backs are daring dress details that flaunt the shoulders and sides in a very trendy way. T-backs look incredibly chic and sophisticated on evening dresses, while adding a seductive air to cocktail dresses.
Prom Dress Fabrics
The fabric possibilities seem endless when it comes to prom dresses. While some are made up of one specific fiber, many are unique blends. Some fabrics are known for their shine and the high-end appearance they provide, while others might be more desirable for their curve-hugging stretch. With every stitch, the fabric of a prom dress elicits a different quality that's hard to ignore, so knowing all of the possibilities makes finding that perfect gown a much smoother process. For making a sweeping entrance, jersey fabric can craft a statement-making train, while delicate lace has a traditional appeal ideal for daintier prom dresses. To learn more about the prom dress terms pertaining to fabrics, explore the terminology below.

Chiffon Fabric: Some would believe chiffon and prom are synonymous. This lightweight fabric is used in many different long prom dresses for a style that's effortlessly graceful and comfortable. Chiffon can add a dreamlike and feminine appeal to prom dresses.

Gingham: Material with a small checkered or block patterns formed by two contrasting colors is called gingham. Dress shirts are often fashioned with gingham in a cotton blend, while dresses with gingham offer a fun and casual look.

Jersey Fabric: Knitted from cotton and wool, jersey fabric is a soft, flexible fabric that lends a comfortable fit to dresses. Prom dresses with jersey fabric can elicit grace, while resisting wrinkles and moving easily with the body.

Lace Fabric: Sheer and delicate, lace lends a certain daintiness to prom dresses. This fabric takes shape as cotton, or lace thread is sewn together into patterns. In the form of overlays, lace often gently covers an entire piece of a dress, while appliques are small sections of lace fabric tightly secured for decoration. Lace can have serious allure stitched onto sheer mesh in illusion bodices, or it can take the modesty of a prom dress up the ranks when fashioned into long sleeves.

Mikado Fabric: Created entirely from fine, soft silk, mikado fabric elicits elegance in prom dresses. Shining and also a bit heavy, mikado fabric is a wonderful option for a classic and sophisticated look at prom.

Sateen Fabric: Sateen fabric is actually a satin blend. Soft, like satin, but a bit stronger, sateen is usually a combination of this smooth fabric and cotton. Sateen prom dresses can also be a blend of satin and polyester, silk, nylon, or wool.

Satin Fabric: Satin is another fabric featured in many prom dresses. This luxurious material is incredibly smooth, sleek, and shiny. For a soft design with luster, choose a satin prom dress.

Scuba Fabric: Scuba fabric is a thicker material made from polyester. This soft, yet solid, fabric is double-knit and offers wrinkle-resistant structure to dresses. Scuba fabric provides a low sheen to dresses and a great foundation for fashioning figure-flattering a-line skirts.

Polyester Fabric: Created from polyethylene terephthalate, polyester is a strong fabric choice for prom dresses. Polyester is wrinkle-resistant and holds up well overtime compared to more natural fabric choices.

Tulle Fabric: As whimsical as it is wispy, tulle is a mesh-like fabric comprised of nylon, silk, or rayon. Tulle fabric adds serious volume to the skirts of prom dresses, ball gowns, and babydoll dresses to make a feminine, princess-like fashion statement. This light material allows dresses to float with the body and emphasizes the curves.
Prom Dress Necklines
Any list of prom dress definitions is certainly not complete without addressing necklines. The neckline of a prom dress can completely change the air of a design. For a chic or sophisticated fashion statement, a halter top might be most appropriate, while v-necklines are a flirty option for trying to impress that special someone. The choice of prom dress neckline will also vary significantly depending upon the venue of the event or level of modesty desired. To learn the prom dress terms that describe necklines, explore here.

Boat (Bateau) Necklines: Boat Necklines look like a stretched-out scoop neck. Fashioning a long "U," boat necklines extend further along the bodice than a scoop neckline. Bateau necks are also a higher style of neckline, framing the top of the bodice close to the throat. For a prom dress that's more modest with a classic feel, boat necks are a great option.

Halter Necklines: Halter-neck prom dresses boast straps that extend up the front of the bodice and connect in behind the neck. Typically secured with a bow, this type of bodice is a feminine way to reveal an open back. Halter prom dresses with a high neckline appear very chic and sophisticated, while a v-neckline is a playful way to take on the trend.

Scoop Necklines: Scoop necklines curve gracefully under the throat into a modest "U" shape that varies in height. High-scoop-neck prom dresses provide the most amount of coverage, while standard scoop-neck dresses are a bit more revealing. Either way, this neckline is ideal for a classic or traditional look.

Sweetheart Necklines: Sweetheart prom dresses curve over the neckline with a pointed v-shaped cut in the middle. Resembling the top of a heart, sweetheart prom dresses are feminine and soft.

V-Necklines: V-neck prom dresses show off the upper part of the body, as the two sides of the bodice meet at the center to form an inverted-triangle-shape cut out. Helping to visually elongate the body, v-necklines are extremely flattering on most body types.
Prom Dress Lengths
"Long or short," is one of the very first questions you'll hear when the prom dress hunt begins. What many don't realize, however, is that these are definitely not the only length options. Prom dresses can be short, long, somewhere in between with knee-length dresses, or a stunning blend of the two with high-low dresses. There is a whole host of prom dress lengths waiting to be explored. If moderate leg coverage is the goal, there is no longer just one option. Knowing all of the fashion terms describing prom dress lengths sets you up for a stylish success with the ideal amount of modesty. Learn more about all of these dress features below.

High-Low Dresses: Can't decide on a short or long formal prom dress? High-low dresses allow you to have the best of both worlds. High-low dresses sport a short hemline in the front, while the back extends down much further. This prom dress style is trendy and fun, allowing for easy movement, while still covering the legs with a longer skirt.

Knee-Length Dresses: Knee-length dresses have skirts that fall right to the knees, in the ideal blend between modesty and fun. Appropriate for such a wide variety of special occasions and audiences, knee-length dresses are a must-have in every girl's closet.

Long Dresses: The key to any sophisticated look, the skirts of long dresses come to floor length, sweeping with the body at every turn. Ball gowns, as well as military ball and gala dresses, are traditionally long styles. Chiffon skirts gracefully add a feminine appeal to long dresses, while tulle skirts make a whimsical statement with cloud-like layers.

Maxi Dresses: Maxi dresses are ankle-length or floor-length dresses of a casual variety. Often made of soft jersey, cotton, and other popular fabrics for informal attire, maxi dresses are an amazing option for a super-cute and effortless summer look. Wear maxi dresses on cruises, to the park, or at laid-back parties with friends.

Midi Dresses: Falling right between the knee and the ankle, midi dresses stop at the middle of the calf. In a very modest approach, midi dresses are wonderful for donning a longer, form-fitting garment without the skirt ever hitting the floor. Midi dresses are a vintage staple and a widespread favorite for enthusiasts of eclectic fashion.

Mini Dresses: Hitting above the knee and flaunting the legs, mini dresses are fun and flirty. A mini dress length can be made more playful with a full skirt or take on a seductive style when the garment is form-fitting.

Tea-Length Dresses: Tea-length dresses are cut below the knee in a design that's perfectly suited for afternoon tea. This more reserved dress length is wonderfully proper and adds an air of daintiness to dresses with fuller skirts.
Prom Dress Sleeves
Want to flaunt your arms as you heat things up on the dance floor, or do you prefer a little more coverage? Either way, rest assured that there's a prom dress feature to make this happen. Suiting your needs, prom dress sleeves come in an assortment of lengths and styles. Tight long sleeves or short sleeves mimicking your favorite t-shirt are far from the only options. Cold-shoulder sleeves are a hopelessly romantic prom dress detail to explore, while bell sleeves provide a vintage feel. Discover the exciting prom dress sleeve options with helpful definitions below.

Angel Sleeves: Consisting of long, flowing fabric, angel sleeves create the appearance of wings along the arms. Angel sleeves drape at the sides, adding a truly romantic or vintage allure to dresses.

Bell Sleeves: Bell sleeves run in a line from the shoulders to the arm, angling out in the shape of a bell at the end. This style sleeve is an adorable addition to any dress, taking the form of short, three-quarter-length, and long sleeves. Long or three-quarter length bell sleeves typically flare out from the body around the elbow.

Cap Sleeves: Cap-sleeve prom dresses feature wide straps that cup over the shoulders to create a sporty short sleeve. Dresses for prom with cap sleeves are one step away from a sleeveless design and often have a youthful appeal.

Cold-Shoulder Sleeves: As the name might suggest, cold-shoulder sleeves have cut outs that reveal shoulders above short or long sleeves. Incredibly trendy, these lovely sleeves keep you cool in more ways than one.

Flutter Sleeves: Flutter sleeves are the loose-fitting, soft sleeves created by fabric gently draping out from the body. Dresses with flutter sleeves are romantic and sometimes a bit vintage-looking.

Long Sleeves: Long sleeves are sleeves that extend from the shoulder to the wrist. Long sleeves provide ample coverage on modest dresses or offer a contrast to other daring features like cut outs.

Short Sleeves: Short sleeves are sleeves that extend down the arm, stopping before the elbow. Offering some additional coverage, short sleeve dresses are a good option for the workday or celebrations with a more reserved crowd.

Three-Quarter Sleeves: As the name suggests, three-quarter sleeves cover three-quarters of the arms. To imagine three-quarter sleeves, just picture your favorite baseball tee. This modest look, can either be quite sporty or sophisticated depending upon the style of dress.
Prom Dress Details
Shining in a prom dress isn't just the work of sparkles. Beyond the rhinestones and sequins, seemingly countless prom dress features exist that could take your look to a whole new level. Ever heard of godets? What about flounces, appliques, or box pleats? There are so many prom dress terms to describe the elements that make a dress pop with charm, but a quick analysis of this extensive list clears up some of the confusion. Explore all of these prom dress details, and their definitions, below.

Applique: Applique is a form of decoration on a dress involving elaborate needlework, sewing one type of fabric onto another. Prom dresses with lace applique, for example, have delicate patterns of lace sewn onto them.

Box Pleats: Box pleats are formed when two folds of fabric facing the same direction create the appearance of a square. This preppy detail is a prom dress trend that often shows up on skirts to provide a little extra volume and resembles the style seen in many school uniforms.

Cut Outs: Cut outs are the shapes cut into the fabric of a prom dress, often around the back or sides. This magazine-worthy trend makes any formal prom dress look sharp and modern. Cut outs help emphasize certain pieces of the bodice and physical characteristics.

Embroidery: Embroidered prom dresses display intricate designs in the form of fabric stitched onto the bodice or skirt. Embroidery is common on many classic prom styles, but it can also be used in more cutting-edge ways, covering parts of the body on illusion dresses.

Flounce Tops: A flounce top contributes a flirty flair to any prom dress. Flounce tops are created with a flowing, second layer of fabric in the form of a ruffle gracing the neckline. Flounce tops are almost like an additional, shorter top over the bodice.

Godets: The fabric that forms a triangular-shaped gathering on the skirt, sleeve, or bodice of a dress is called a godet. Godets can turn the skirt of a prom dress into a real statement-maker as they grace a sweeping train.

Horsehair Hemlines: A horsehair hemline is a wide band that creates structure along the end of a skirt. In prom dresses with long layers of chiffon in their skirts, horsehair hemlines are used to fashion attention-grabbing shape.

Knife Pleats: Knife pleats are small, pressed folds in fabric that all face the same direction. Knife pleats are an eye-catching and unique way of adding shape to a dress.

Ombre: Not just for hair, ombre is a current prom trend that makes dresses for prom incredibly unique. Ombre prom dresses blend several colors together, as one shade fades to another. Because there are so many color possibilities, all ombre prom dresses look a bit different, but all have similar trendy, stand-out appeal.

Pleating: Pleated prom dresses have clean-cut figure-flattering folds in the fabric. Knife pleats all face the same direction, while box pleats use two pleats facing different directions to form a square shape. Pleating makes a dress seem incomparably posh, while enhancing the silhouette.

Popover Tops: Popover tops create the illusion of a top, separate from the rest of the dress, as fabric drapes over the neckline. Popover tops move with the body, while adding volume to the bodice.

Ruching: Fabric gently gathers together creating lovely ripples in ruched dresses. Ruching makes a dress more interesting, as it sends eyes to the beautiful bodice or a figure-flattering waistband.

Ruffles: Ruffles are the soft, loose folds of fabric that give the appearance of curves along the material. Ruffles are a wonderful way to add volume to the bodice or skirt of a dress in a way that flatters or emphasizes the figure. Small ruffle detailing can also be a feminine touch that jazzes up necklines or sleeves.

Scalloped Trim: Scalloped trim is a pattern extending out from a dress in the form of semi-circles (like scallop shells) lined up together in a row. A unique twist to a dress, scalloped trim adds intrigue to sleeves, skirts, and necklines.

Sequins: Sequins are the sparkling circle details sewn into the fabric of dresses. Adding sparkle, sequins can be found spread across an entire dress or arranged into eye-catching patterns.

Shawls: Softly shrouding the upper body, shawls are the perfect blend between a scarf and coat. Shawls are the light layer draped over the arms and shoulders that's worn over dresses. This piece of attire is a go-to for stylishly covering up inside a building or outdoors on a warmer day.

Tiered Skirts: Prom dresses with tiered skirts add volume to the hips with several levels of fabric extending out in layers towards the hemline. These "tiers" move with each step for a full and flirty looking skirt.

Tulip Skirts: Tulip skirts wrap around the hips in the front to look like tulip petals around the legs. Great for curvy figures, the fabric of tulip skirts is fitted to accentuate the lower half of the body without clinging too tightly.