Hoco Dress Styles: What to Wear to Homecoming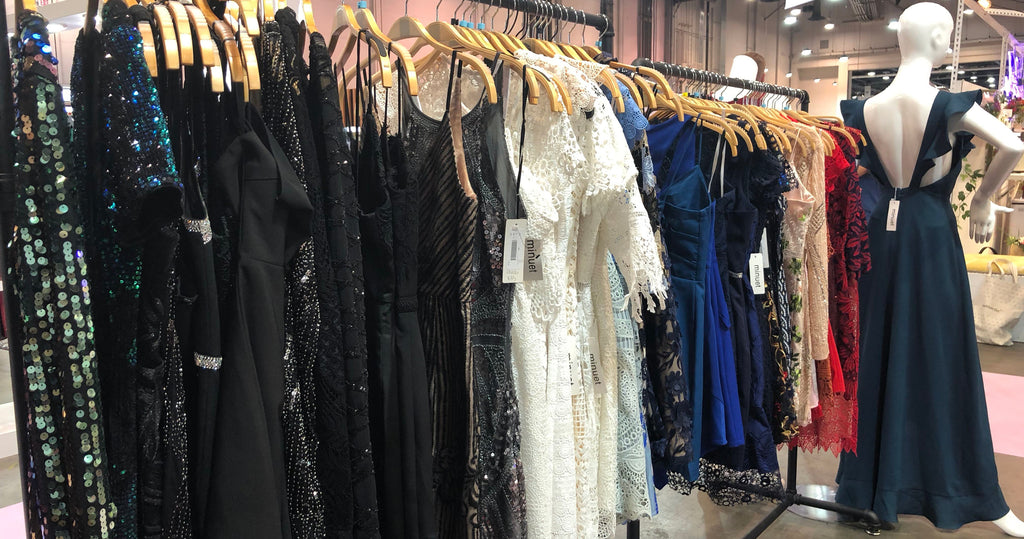 Not sure what to wear to homecoming? Generally, girls wear short semi-formal dresses, but fresh and flirty styles like rompers and jumpsuits are popping up at homecoming events, too. Most guys err on the side of formal and wear a suit to homecoming, but at a more casual hoco dance, ditch the jacket and go for a collared shirt and tie. When it comes to choosing your homecoming attire though, it's best to start by following the rules… school dress code rules, that is! You want to make sure you don't get turned away at the door because your fashion is just too bold, so be sure to check with your homecoming committee first for the do's and don'ts of hoco dress styles. Maybe homecoming dresses with cut outs are out, but hoco dresses with illusion fabric is in (you won't know until you ask). Confirm the rules and check your homecoming flyer or ticket stub to see if you'll need a casual, semi-formal, or formal dress for the dance. Still wondering how to narrow your style options? Check out the following frequently asked questions for more great advice on what to wear to homecoming.
What Style of Dress Should I Wear to Homecoming?
Dress to impress in a homecoming dress that fits comfortably, flatters your figure, and matches your school's dress code. But how do you know which style will check all of those marks for you? Here are a few ways you can go about picking the perfect homecoming dress style.
Go for Your Signature Style: Choose a hoco dress that expresses your personal style. Prefer a whimsical vibe? Go for youthful designs, like fit-and-flare or high-low dresses. Is standing in the spotlight your calling? A short homecoming dress with sequins or glitter is sure to have you sparkling under the lights. Want an over-the-top dramatic look? Choose a long homecoming dress that's a glamorous formal design fit for prom.
Shop by Your Body Type: Focus on dress styles that are designed to look best on your body shape. If you're not sure what dress will look best on your figure, check out some tips on PromGirl's Shop by Body Type page to help you choose a hoco dress style that flatters you best.
Pick a Color, Any Color: One last consideration for your dress is color, and, when it comes to hoco, anything goes! Choose a homecoming dress in sunshine yellow, radiant red, or crisp white. Wait . . . can you wear white to homecoming? You sure can!
Whatever homecoming dress style you choose, just remember to pick something you'll be comfortable in when it's time to get down on the dance floor.
Are Homecoming Dresses Long or Short?
Homecoming dresses can be long or short. Most homecoming dances are semi-formal or even semi-casual occasions. If your school's hoco dance is semi-formal, then a homecoming party dress or even a short formal dress will fit right in. If it's semi-casual, a casual long maxi or short party dress will do. While you don't have to wear a short dress to homecoming, wearing a long dress in a formal prom style to a semi-formal homecoming dance might look out of place. At most high schools, hoco dances are a casual kick off to the school year, so semi-casual long dresses or short semi-formal dresses match well to the event. Homecoming is the first major event of the school year, so whether you choose a cute casual dress, a semi-formal maxi dress, or a statement-making long formal dress, just make sure you check the dress code first!
Do I Have to Wear a Dress to Homecoming?
Although it might not be required to wear a suit or dress (check your school's homecoming dance dress code to be sure!), homecoming is one of the few dances of the school year, so it's a great opportunity to dress up and have fun with friends. One of the best things about wearing a dress to homecoming is that dresses are super easy to accessorize. So, skip the separates and opt for a cute high-neck hoco dress or a short formal shift dress. Do you want to show your school spirit without having to slip into a dress for the occasion? For a comfortable, yet stylish alternative to a traditional short homecoming dress, wear a romper or jumpsuit. Bonus: These cute and trendy styles are easy to accessorize as well! The most important part of homecoming is to have fun, so if you feel more comfortable wearing a romper or jumpsuit, then go for it.