4 Tips for Safely Buying Quinceañera Dresses Online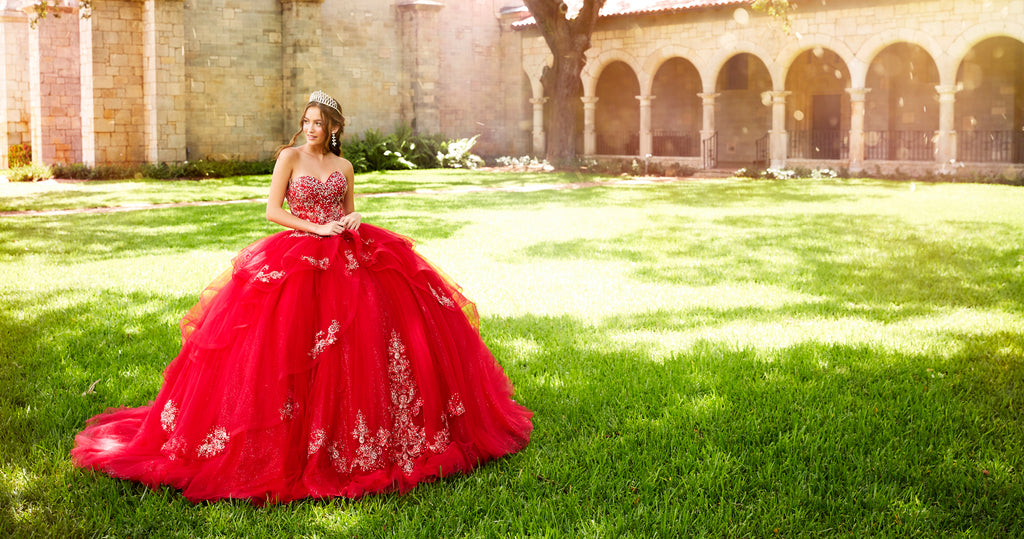 When you're cruising the web for gorgeous quinceañera dress inspiration, you want to be confident that the site you finally choose to shop at is legit and secure. But how can you be sure? Is it even safe to buy quince dresses online? Buying quinceañera dresses online can be safe, as long as you do a little research on your chosen website first!
Contact the Designer: If there's a well-known designer featured on the website, then it's time for a little digging! Many designers have their own websites that list other shops that have their permission to sell their dresses (AKA "authorized retailers"). If you find the new site listed as an authorized quinceañera dress retailer for that designer, then the dresses are legit! Of course, if you have any doubts (or there's no list available), you can always contact the designer directly to make sure that the website you're shopping is an authorized retailer for their designs.
Check the Available Sizes, Colors, and Pricing: Designers only make their products in certain, standard sizes (per the size charts they provide) and in a limited set of color options. If a site is offering customizable sizes and colors beyond what the designer offers, then the quince gowns are probably knock-off styles. Designers also set a suggested retail price that all of the shops and sites that sell their dresses need to use. While some shops might have special coupons or discounts available seasonally, online quinceañera dresses that are dramatically underpriced are probably too good to be true.
Check "Contact Us" Info: There's a good chance that a website is more legitimate if it lists a physical address and phone number, so it does not solely communicate with customers with online messages or email. Bonus points if the company is located within the US! Here's a perfect example of what to look for on PromGirl's Contact Us page.
Check Security Features: Look at the site address to see if it starts with "https" (that extra "s" stands for secure!), which means your information on the site will be encrypted (safer from hackers). Does the site allow you to use secure payment methods? Using a credit card, PayPal, or a prepaid Visa adds a layer of protection for your personal information when you buy quince dresses online.
With these 4 tips, you're now prepped to safely buy quinceañera dresses online! As an authorized quinceañera dress retailer, PromGirl knows how to keep your shopping experience safe and secure. For more information about how PromGirl takes care of your personal information, check out the privacy policy. Ready to shop? Here are all of the quinceañera dresses and damas dresses available at PromGirl!
Looking for more quinceañera tips and tricks? Head back to PromGirl's Quinceañera Guide to check out all of the FAQs and topics available.