Prom Dress Care: Before, During, and After Prom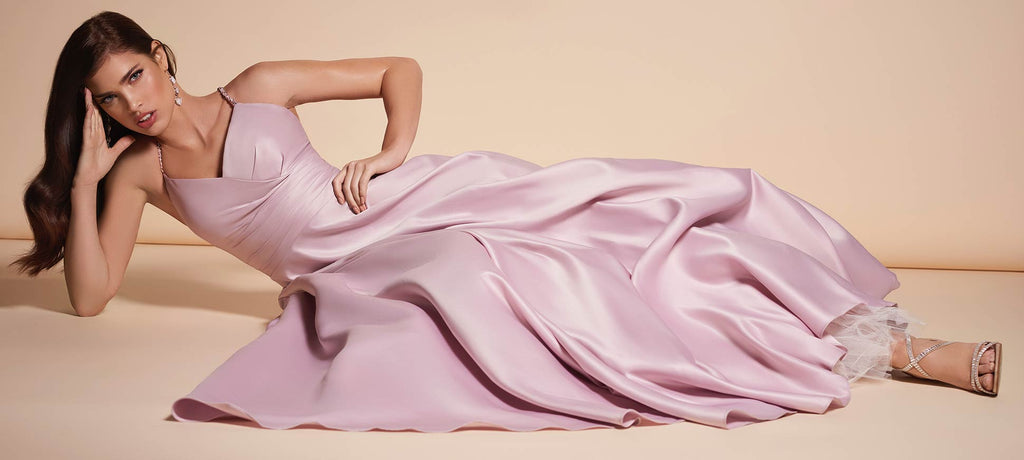 Once you've found the dress of your dreams, you'll want to ensure you know how to properly care for your prom dress. A special occasion gown or formal prom dress is truly an investment and should be treated as such. By following the expert advice offered in this section of the Prom Guide, you'll find ways to care for and extend the life of your prom dress. You'll find useful advice on prom dress cleaning, how to treat prom dress stains, and how to handle prom dress emergencies, as well as how to preserve your prom dress after the dance. From unpacking and fighting wrinkles to storage and cleaning, let PromGirl guide you through all you need to know about caring for your prom dress. Follow this simple advice and you'll have the best looking prom dress on prom night and for years to come.
What Should I Do When My Prom Dress Arrives?
You've been anxiously awaiting this day since the moment you clicked "place my order," and now your dream dress has arrived. Simply follow these handy tips and tricks to ensure you have the best looking dress possible on prom night.
Unpack Your Dress - It's like Christmas morning! The excitement mounts as you rush to open the box and sneak the first peek at your perfect prom dress. Once the awe factor subsides, carefully remove your dress from the shipping package. If your dress is heavily beaded or covered in sequins or glitter, it is totally normal to see a few loose ones in the bottom of the box, so don't fret.
Inspect Your Dress - Now, you should inspect the dress from top to bottom. Be on the lookout for any loose, missing, or damaged stones, beads, or sequins. Also check hemlines and seams to ensure the dress is free of any manufacturing defects. If you find anything alarming, contact the site's customer service immediately so that you have ample time to get a replacement or repairs. Most designer dresses that are adorned with embellishments will come with a small bag of replacement sequins or beads. Be sure to keep track of these replacement sequins and beads, for they may come in handy when it's time for alterations or if there are any loose or missing stones.
Try It On - Now the real fun begins! Be the belle of your bedroom when you slip into the prom dress of your dreams! Remember it's best to try your prom dress on with the undergarments, shoes, and accessories that you'll be wearing on prom night so you can see the overall look and if any alterations will be needed.
Storing Until Prom Night - Chances are you'll fall in love with the look and feel of your new prom dress so much that you won't want to take it off. However, to ensure your prom dress is wrinkle free and looks its best on prom night, you'll need to properly store it until the big night arrives. Laying your dress flat or hanging it up are always the best options for storage. Consider the style and cut of your dress when selecting the type of hanger to use, as you'll want to avoid creating bumps or stretching the shoulders. Also, if your prom dress is heavily embellished, consider hanging it inside out to avoid snagging any of the stones or beads.
How Do I Treat Wrinkles on My Prom Dress?
Wrinkles can quickly spoil the polished look of a formal dress. You can have your prom dress professionally pressed or steamed if necessary. If treating at home, always check the manufacturer's label for care instructions first, as prom dress cleaning methods can vary by fabric. Then, you can try hanging the dress in the bathroom while a hot shower is running to let the steam remove the wrinkles for you. If that trick doesn't quite do it, use a cool dry iron and press through a piece of white cloth to protect the dress. When storing your prom dress, its best to ensure no other garments come into contact with it to avoid wrinkles or color bleeding.
How Do I Remove Stains from My Prom Dress?
Stains happen. No matter how careful you are, sometimes the stain just finds you. The first rule of thumb when it comes to fighting stains on your formal prom dress is to act fast so that the stain does not have time to fully saturate the dress fabric. In this section of the Prom Guide, you'll find prom dress stain removal basics and cleaning tips for treating a variety of different stains.

Prom Dress Stain Removal Basics
Prom dress cleaning methods are typically dictated by the type of material and type of stain you're dealing with, but there are a few general tips when it comes to stains and formal dress care. For best results follow the below basic stain treatment and removal guidelines for treating stains on formal wear.
Treat stains ASAP
Test the treatment method on a hidden area of the garment first
Rub the stain from the back of the fabric, not the front
Follow the manufacturer's care instructions for the garment
Never dry or iron a stained garment until the stain is removed
Don't rub the stain; blot or scrape the stain to prevent further penetration
Use a clean white towel for blotting stains
Always follow instructions on stain removal products
How To Treat Special Types of Stains on a Prom Dress
It is always best to have your formal prom attire professionally cleaned to remove any stains. However, stains don't always play by the rules. They tend to happen at the unluckiest of times, like while you're getting ready the night of prom, or worst yet, at the actual prom. Have no fear! Here you will find DIY prom dress stain removal tips for specific types of stains. Again, remember that if time allows, or if the DIY attempt fails, it's best to consult the professionals.
MAKEUP 
Eye Shadow/Lipstick/Mascara:
Dampen the stain with warm water and rub with a liquid detergent with color safe bleach. Rub the detergent directly into the stain until its outline is gone. Then wash the garment in the hottest water safe for the fabric.
Concealer/Foundation/Eye & Lip Liner:
Dampen the stain with warm water and pretreat it by gently rubbing with liquid laundry detergent or a soft paste of powder detergent and water. Rinse the treated area and then launder the garment in the warmest water safe for the fabric. Hang dry the garment.
Nail Polish:
This may be impossible to remove depending on the fabric and nail polish type. If the alternative is to throw out the garment, try nail polish remover. Place garment face down on paper towels. Blot the back of the stain with nail polish remover. Rinse and wash.
OTHER TYPES OF STAINS 
Ink:
Try a pencil eraser, and if that doesn't work, soak the stain with rubbing alcohol.
Grass:
Wipe fabric with rubbing alcohol, and then apply mild chlorine bleach to any remaining stain.
Coffee/Tea:
Immediately run cold water over fresh stain. Pretreat stain with fabric prewash and launder.
Grease/Oil:
Use a liquid pretreatment spray and wash the garment in the hottest water safe for the fabric. If stain persists, place stain face down on clean paper towels and rub with dry cleaning solvent or liquid pretreatment spray. Rinse in warm water and wash.
Mud:
Allow mud to dry, and scrape off as much as possible. Soak for 15 minutes in detergent and water. Wash in hottest water safe for the fabric.
Perspiration:
Rub a moistened bar of soap directly on stained area. Apply liquid detergent to stain and wash.
Blood:
Put a paste of water and cornstarch, cornmeal, or talcum powder on the spot. Let it dry, and brush it off.
Deodorant:
Rub with a small piece of denim to remove any white deodorant marks.
What Should I Do If I Snag My Dress at Prom?
Step one, don't panic, although a snag or tear may seem like the end of the world, in the grand scheme of things it really is a minor issue, so try not to let it ruin your night. Avoiding snags and tears is the best defense when it comes to caring for your prom dress. To avoid snagging your prom dress at the dance, be sure you consider your dress fabric when selecting what jewelry and accessories you'll be wearing, as jewelry is usually to blame when it comes to prom dress snags. Like stains, snagging or tearing your prom dress has the potential to become a huge problem, making them top issues on the prom dress emergency list. A tear or rip should be addressed immediately. This is where stashing a small sewing repair kit or double sided tape in your prom bag becomes a lifesaver, as these things can keep snags and tears from becoming an embarrassing wardrobe malfunction.
What Should I Do with My Prom Dress After Prom?
The big night has passed, but remember your prom dress is an investment that you'll want to cherish for years to come. You can preserve your prom dress and hope your daughter or younger sister has the same sense of style you did, or you can repurpose your prom dress in a variety of fun ways. Have the dress altered to a cocktail length, cut glitzy areas off and create belts or hair pieces, or make it into a halloween costume. The possibilities really are endless. If you're not interested in keeping your dress, consider passing it down to a family member or friend, selling your dress, or even donating it to a charity. This is why prom dress care is extremely important, as no one wants to wear a stained or stinky hand-me-down. Follow this prom dress care advice to prolong the life of your formal dress.
Care and cleaning are key to preparing your prom dress for storage. It is best with any formal dress care to consult the manufacturer's cleaning instructions. These are usually found on the inside tag for recommendations. Having your prom dress professionally dry cleaned will help minimize any color fading, and can extend the life of the garment, making your purchase last longer. Once the prom dress is completely cleaned, be sure to store your dress in a room temperature area. For best results, consider throwing a few packets of silica gel into the prom dress storage bag or box to absorb any surrounding moisture and keep mold away. Then, pack it away while you savor your sweet prom memories.