Prom FAQs: Answers to the Top Questions About Prom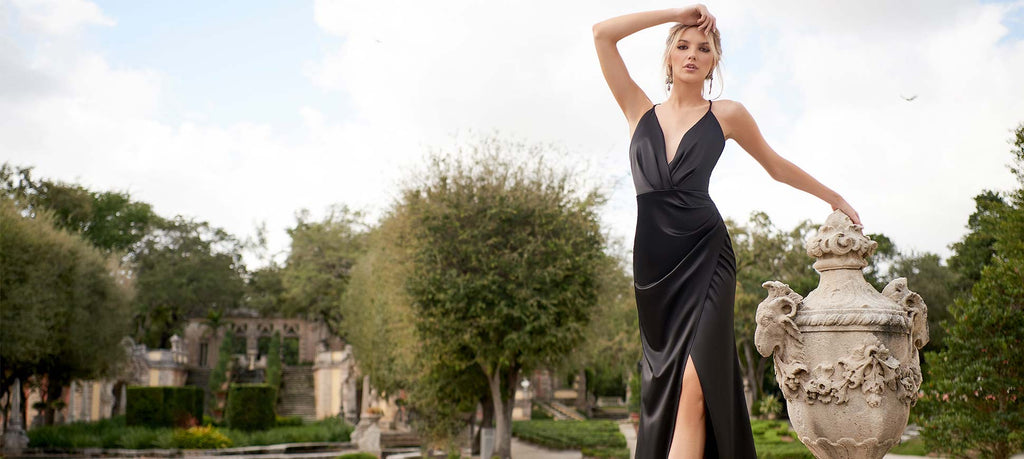 With all the excitement around prom festivities, there are sure to be a few random, and some not so random, questions that pop up. For decades, girls have turned to PromGirl for prom advice, inspiration, and preparation, so now some of the top questions about prom that may be weighing on you mind can be found right here in this section of the Prom Guide. From how much prom costs to what to expect on the big night and how to handle prom emergencies, simply browse the prom FAQs to find knowledgeable answers to all of your prom questions so that you can remain calm and cool as the big night approaches.
How much does prom cost?
The cost of attending prom can vary greatly depending upon your personal preference, type of event, and level of formality you chose. On average, teens today spend at least $600 or more once all's said and done. This cost usually includes the prom dress, flowers for prom, prom tickets, transportation to and from the event, as well as hair and makeup. For more information on costs associated with prom check out the prom costs section of the Prom Guide.
How much does the typical prom dress cost?
The cost of your dream prom dress is determined by the type of gown that you select, as prom dresses come in a variety of styles, designs, colors, and sizes. There are couture designer gowns that range in the $500-$600 range, as well as trendy short prom dresses or affordable long formal dresses for under $100. It all depends upon your budget and individual style.
Should I go to prom?
Definitely! Prom is one of the most iconic events in your high school career, so don't miss out on the opportunity to dress up and have a good time. On the other hand, if formal attire and dancing just isn't your thing - remember you can always just go and hang out with friends or meet up with your besties at the after prom celebration.
Who can attend prom?
Typically, prom is a formal dance held for upperclassmen: the juniors and seniors. However, lower classmen and non-students may be able to attend if invited, depending upon the individual school's restrictions. Be sure to check the rules before purchasing your tickets for prom.
Should I take a date to prom?
There is no requirement that states you must take a date to prom. Attending prom solo or with a group of your besties is perfectly acceptable. However, if you're currently dating someone, it may be assumed that you'll be attending prom together. Be sure to discuss the matter to avoid any confusion. For more prom advice on who to take to prom, visit the dating section of the Prom Guide.
Can I go to prom alone?
Of course you can go solo to prom! It's actually one of the best ways to ensure a stress free night of fun. Think of the benefits: You don't have to worry about coordinating with your date, there's no added pressure to act a certain way, and you can still mingle with everyone without the fear of upsetting a date.
Who should I go to prom with?
The short and sweet answer is: You want to have a great time at prom, so you should attend with whomever you're most comfortable with and enjoy being around. If that means going with a group of your besties, then do it. If your high school sweetheart asked you with an amazing promposal and you can't wait to get all dressed up and attend with your love, then do it. Bottom line - do what makes you happy! After all, it's your night.
What is a promposal?
Unique, fun, and creative ways to ask a date to prom have become known as promposals. From charming poster board confessions for your crush to elaborate flash mobs and choreographed routines, asking a prospective date to prom has come quite a long way. Check out more info about asking a date to prom and the best past promposals in the promposal section of the Prom Guide.
When is prom?
Prom season generally extends from the end of March until June. The actual date of prom night is decided by your school or prom planning committee. Most high school proms are held in the Spring, between April and June, but it's never too early to start preparing for prom.
What is the dress code for prom?
Traditionally, prom attire is classy formal wear or modest evening dresses. Some trendsetting fashionistas will rock unique two-piece prom dresses or short prom dresses for an edgy fashion-forward vibe. Whatever your personal style, be sure to check with your individual school or the event venue to ensure that your chosen prom dress meets the criteria for the evening's dress code. Check out the what to wear section of the Prom Guide for more helpful tips and tricks on dressing for prom.
What is an after prom party?
More and more schools and prom committees are now hosting after prom parties for teens to continue celebrating after the formal prom dance has ended. The after prom is usually a more casual, relaxed environment with snacks, games, and entertainment. If you're looking for ideas on how to host an amazing after prom or how to dress for activities after the dance, check out the after prom section of the Prom Guide.
What should I do after prom?
Since the night is still young (and well, so are you!), keep the festivities going at an after prom party. After prom parties and activities are a huge part of the evening. Check with your prom committee for details, as the majority of schools host an after prom event to provide a safe, fun, and entertaining place for teens to gather after the formal activities have concluded. If there isn't anything going on school related, you can always make plans with your prom squad to meet up together after the prom at your favorite local restaurant, bowling alley, or arcade, etc. The possibilities are truly endless.
What should I bring to prom with me?
Preparing and packing the essentials for prom night is lifesaving. Well ok, maybe not lifesaving, but it just might save you from an embarrassing situation. Be sure you include makeup for touching up your look, breath mints for freshening up, and maybe a stain remover pen, safety pins, and bobby pins for any possible touch ups that might be needed. Also you'll want to consider the after prom plans too when packing your bag. You may want to bring a change of clothes and some comfy shoes for the celebration afterwards. For more ideas, explore the what to bring to prom section of the Prom Guide.
What is a special order prom dress?
A special order prom dress is a gown that is not currently in stock. It will need to be ordered directly from the designer. If the size and color combination you desire is listed as "special order" or "due to ship," this means that your prom dress is expected to ship out on the provided scheduled ship date. When considering a special order prom dress, be sure to allow adequate time for shipping and any alterations that may be needed.
What makeup should I wear to prom?
Wear the makeup that will make you feel your best. If you prefer the smoky eye look, rock the smudgy charcoal shades. If you're more of an o'natural girl, go with neutral tones and hues. Less truly is more when it comes to achieving a polished look for prom. It's usually best to choose prom makeup that will complement your prom dress to achieve a cohesive look. For more in-depth prom makeup advice visit the makeup preparation section of the Prom Guide.
What if my prom date ditches me?
Find your friends and dance it out! You've put a lot of effort into making sure this is a fun, memorable evening, so don't let it get you down if your date wanders off or ditches you for other friends. Most important, focus on the moment at hand, enjoy the prom celebrations with your besties, and show your date that you can have an amazing time with or without him or her.
What if I stain my prom dress?
Stains seem to happen at the worst times. If you get a stain on your prom dress, it's best to treat the area as soon as possible. Grab the stain remover pen you stashed in your clutch, pat yourself on the back for being prepared, and treat the stained area accordingly. Depending upon the severity of the stain and the location on your prom dress, you may need to recruit the help of a friend, but hey, that's what friends are for! For advice on how to treat specific stains, visit the dress care section of the Prom Guide. If you aren't able to completely remove the stain, just remember that the night will go on. Embrace the mess, smile, and have fun! Don't let a little stain ruin your night.
What if someone else is wearing the same dress to prom?
Believe it or not, prom is not a "who wore it best" competition. Although it can initially feel devastating if someone walks in wearing the same dress as you, try to embrace the situation. Rather than being disappointed, recognize that you both have great taste. Better yet, take advantage of the yearbook photo opportunity and pose for a pic together! #twinningatprom
What if I don't know how to dance at prom?
No matter what you've heard, dancing at prom is not a requirement, so skip it and socialize instead if you prefer. Some schools even arrange for fun side activities to enjoy during prom for those that want to ditch the dance floor. Bottom line: You're there to have a good time, and if dancing is not your favorite activity, that's fine. However, if you want to join the masses and engage in a few dances, all you really need to do is move your feet to the beat or do your homework beforehand by studying YouTube videos of some of the most popular dances
How should I do my hair for prom?
Let your personal style, design of your prom dress, and type of hair guide your hairstyle pick for prom night. You'll want to choose a look that complements your prom dress silhouette. For example, if you choose an elegant evening dress with an illusion-lace open-back detail, you'll want to showcase the alluring back by rocking an updo. For more tips and advice on how to do your hair for prom, check out the prom hair section of the Prom Guide.
What if I tear or snag my prom dress?
Keep calm and assess the situation. Whether your jewelry snagged the lace, your date stepped on and tore the hem, or a strap broke, with a little effort and a handy sewing repair kit, you'll be back on the dance floor in no time. Please keep in mind that these are quick in-the-minute repairs to keep your party going prom night. For most tears or snags, you'll need to seek professional help to ensure proper repairs are made after the event. For broken straps, secure the strap with a safety pin until you can make it to the restroom, as you'll likely need to remove the dress and add a few quick stitches to re-attach the strap. Depending upon the size of damaged area, a torn hem can be handled with double-sided fabric tape or a few small stitches. For a tear, simply pinch the fabric together and add a few stitches. As for snags, they can be a tricky, depending upon the type of dress material. Some snags can easily be pulled back into place, while other may require you to cut and remove the thread that was snagged for best results.
What if my prom date is shorter than me?
Try to get away from the stigma that your date for prom should be taller than you. To truly enjoy yourself at prom, pick your date by personality, not height. Try not to stress about things that are truly out of your control (and your date's). Placing too much emphasis on height could make your date feel self conscious or reluctant to attend (imagine your feelings if your crush did the same to you). You can wear flats if you feel very strongly about the situation, but there really is no reason to forgo wearing those amazing prom heels that you love. Most professional photographers will be equipped with a block for short individuals to stand on if you're worried about the photos, or be playful about the height difference in your pictures by coming up with fun poses together. You can also play around with camera angles and filters to achieve gorgeous group shots.
What are the best ways to remember prom?
Pictures and videos are by far the best and most common way to remember prom night. Be sure to snap a ton of selfies with your besties, live action shots on the dance floor, and candid moments throughout the night so that you capture the true enchantment of the evening and can cherish the memories for years to come. Prom favors, your prom tickets, and preserved prom flowers are also wonderful souvenirs to keep. For more in-depth information on preserving prom memories, visit the memories section of the Prom Guide.
How do you preserve prom flowers?
There are several tried and true options for preserving flowers after prom is over. The easiest way to preserve flowers from prom is by drying them out. Just wrap a rubberband around the stems of the flowers and hang them upside down for a few days to dry out. Keep in mind that dried flowers are fragile, so display them carefully to avoid crumbling. Another popular method for preserving prom flowers is to spray them with an aerosol hairspray to keep them from wilting. You can also purchase a kit designed for preserving your flowers in gel, or you can press the flowers between the pages of a thick book, wait a few weeks until dry, and ta-da! Perfectly pressed and preserved prom memories.
What is the prom promise?
The prom promise is a declaration of an intent to behave responsibly on prom night. Students attending prom make the commitment to avoid reckless and harmful behavior on prom night, which includes driving under the influence of drugs or alcohol. Some schools have also started similar campaigns called Project Safe Prom. Project Safe Prom is essentially a fundraiser to help raise money for transportation for students to and from the prom venue.
Are there chaperones at prom?
Most schools recruit parent and teacher volunteers to chaperone the festivities the night of prom. Other schools may even employ the help of a police officer to ensure the safety of students and to encourage responsible behavior.
How can I have a great time at prom?
There are a few rules of thumb when it comes to ensuring the best prom night. Preparing for prom is super important and should start when you decide that you'll be attending to minimize any last minute stress. Be yourself, regardless of what's considered current or trendy, so do what makes you happy. Not a dancer? Don't dance. Have a love for unique fashion? Rock a unique look like a sparkling sequin two-piece floral-print dress to prom. Remember, prom is a night to celebrate yourself and your high school career, so be sure the pictures and videos will capture the truest and happiest you!
What are Prom Forms?
Most schools have requirements for attending prom with a date from a different school or class that include submitting completed prom forms prior to the event. These forms can range from a simple questionnaire, to an in-depth prom form requiring parents' signatures and a sign-off from the prom guest's own principal. Prom Dating Advice 101: Find out in advance your school's requirements for prom guests from another school or class, that way you are both prepared and don't run out of time.
What is a Prom Dress Code?
The prom dress code is the school requirements for what you can or can not wear to prom. Whether you are going to prom solo, showing up with friends, bringing a date from another school, or attending prom at a different school, it is important to be aware of the school's prom dress code. This includes prom dresses, as well as tuxedos, suits, and prom shoes. Most prom dating advice sites will tell you how to match your prom date's outfit, but the prom dress code is even more important! Failure to follow your school's requirements for the prom dress code could result in both you and your prom guest getting kicked out of prom or not being allowed in at all. Some schools ask for a picture of you and/or your prom guest's attire in advance. Before you begin your search for your dream prom dress, be sure to do your research and find out the school requirements regarding prom attire for both you and your guest.