How Does Prom Dress Fabric Affect the Dress Fit?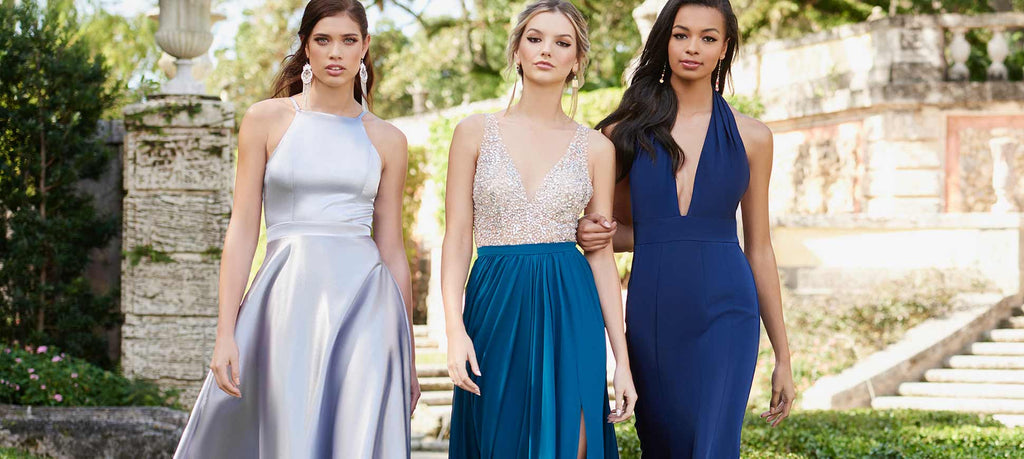 Fabric stretch is a sneaky factor that can make your "go-to size" a little bit too loose or too snug. Each fabric changes the way a dress lays over your body to give you a figure-hugging silhouette or a flowing, softly elegant look. Dress fabrics that stretch can expand over the curves to comfortably showcase the figure (like prom dresses in stretch jersey), while other fabrics simply won't budge (like lace or chiffon prom dresses). Wondering if you should opt for a larger or smaller size for a more comfortable fit? Explore the stretch of the fabric and whether or not it provides flexibility to the designer's size chart measurements. If the bodice and skirt of an evening dress are made from two separate fabrics, keep in mind that each fabric may have a different degree of stretch. This will affect how the prom dress fits.
How Does Fabric Stretch Affect Dress Sizing?
When it comes to prom dress sizing (and avoiding extensive prom dress alterations), fabric stretch can play a pivotal role. Let's face it, we aren't all shaped the same way (and really, who would want to be?) This is when a stretchy fabric can quickly become your new BFF. If your measurements fall between the sizes listed in a sizing chart for a prom dress, but it is made from a stretchy fabric, you can try the smaller size for a snugger fit or the larger size for a looser fit (depending upon your preference). Dance the night away in style and comfort by using the fabric stretch tips below to help guide your prom dress sizing choice.
Which Prom Dress Fabrics Are Stretchy?
Looking for a prom dress that will allow some wiggle room in measurements? A stretchy fabric is the way to go! Some types of fabric with stretch are:
Soft jersey
Springy spandex
Stretch crepe
Stretch lace