Things to Consider When Prom Dress Shopping Online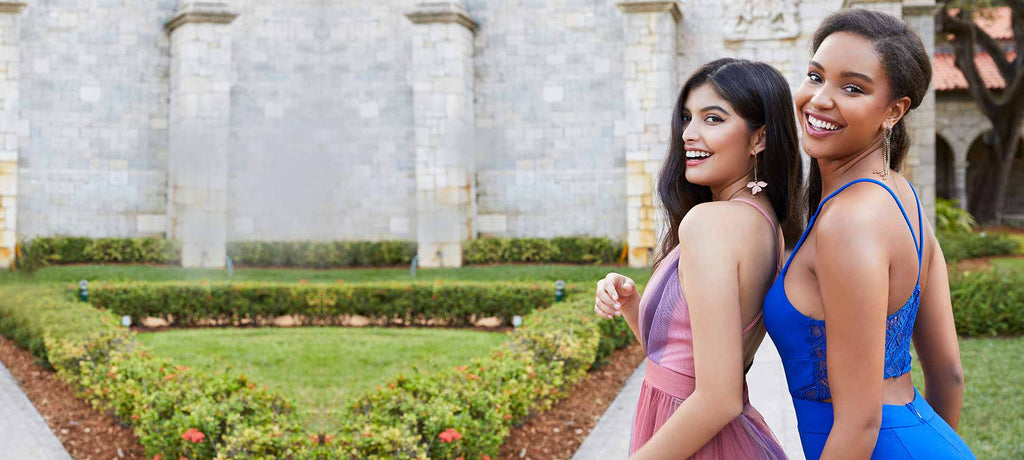 Planning to purchase your prom dress online? Here you will find tips for navigating the world of prom dress sizing online, as well as advice for returning or exchanging your prom dress. With over 20 years of experience selling dresses online, PromGirl has developed information to guide you, making your online prom dress shopping adventure effortless.
HOW CAN I FIND THE PERFECT PROM DRESS ONLINE?
Finding the perfect prom dress online involves choosing your ideal style and size, but first thing's first! Before you can pick your perfect prom dress, you'll need to find the perfect online prom dress site for shopping. Check on the site's authenticy to make sure that the seller is an authorized designer dress dealer and not a counterfeit dress site. If you know you can safely shop on the site, it's time to start narrowing down your choices. Consider your favorite colors and styles and how they complement your body type. Once you've got a few favorite prom dresses picked out, it's time to get to the nitty-gritty details.
WHY AND HOW SHOULD I CHECK MY PROM DRESS SIZING?
One of the biggest questions about buying a prom dress online that you can't try on is, how do you know what size to order? Well, the answer is to know your measurements and to use the provided size charts. Checking your prom dress sizing in advance can save you time and money in the long run. Hoping to minimize the need for prom dress alterations or exchanges? Using your bust, waist, and hip measurements, as well as the website's sizing tool or size chart, you can find your ideal size prom dress for the specific designer style that you are considering. For more detailed tips and a how-to video walkthrough on sizing, check out this