How Much Are Quinceñera Dresses?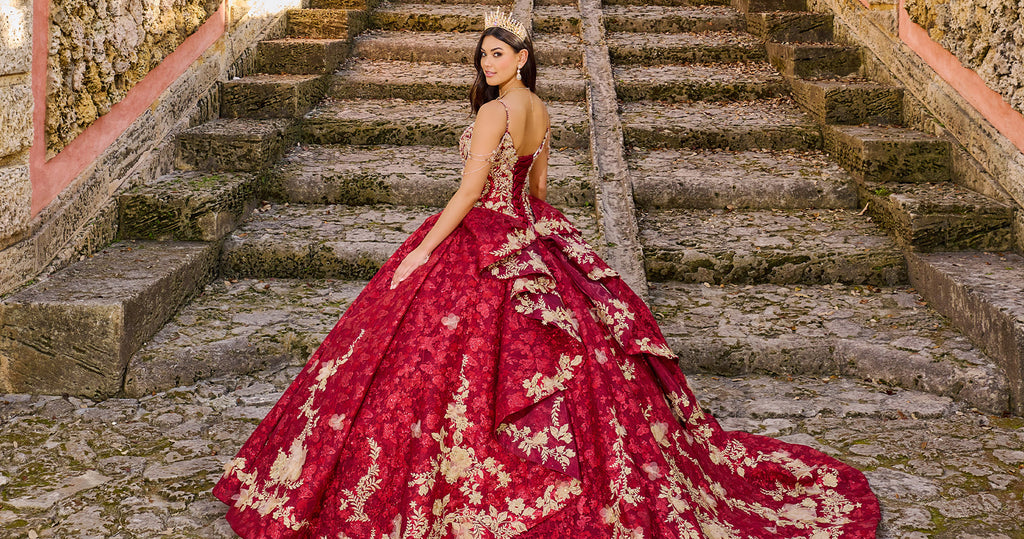 Just one look at those glamorous (and dare we say, "poof-tastic?") quinceañera dresses, and you might find yourself assuming that quince dresses must cost a fortune! Believe it or not, quinceañera dresses can run upwards of $2,000 or as little as $200, but the average cost of a quinceañera dress is typically between $700 and $1,000. Ultimately, it depends on how extravagant you want your birthday gown to be for your sweet 15. Wondering why quinceañera dresses can get so expensive? Here are a few things that can determine the cost of quinceañera dresses.
Fabric: It takes a lot of fabric to make the signature poof, so it's easy enough to see how the poofier your quinceañera dress gets, the pricier it gets too! Add to that the fact that the type of fabric (tulle, glitter tulle, lace, Chantilly lace, cracked ice, etc) might be more or less expensive, and that can affect the price too.
Embellishments: There are so many embellishing details that could be included on a quince dress, like jewels, rhinestones, sequins, lace appliques, embroidery, or 3-D flowers. When lots of these glamorous details are added (and especially if they are added by hand), the cost of the quince dresses goes up.
Designer Expertise: When you choose a quince dress from a collection by an established designer, you know that gown was beautifully crafted. Designer brand quality often means lots of hand-stitching, intricate detailing, and high quality materials, all of which can affect the cost of quinceañera dresses.
Add-Ons: Are there glow-in-the-dark lights carefully and safely incorporated into the quince gown? Perhaps the dress includes a detachable skirt or removable straps to change up or personalize your look from ceremony to party. Does your chosen gown come with a matching bolero, shawl, or cape? Any of these extra features can increase the value (and price tag) of your quince dress.
Accessories: While not part of the initial quinceañera dress purchase, accessories will absolutely affect what you spend on your birthday outfit overall. Keep in mind any special jewelry, hair pieces (hello, princess tiara!), shoes, or other accessories that you hope to have and estimate about how much they might add to your total quinceañera dress cost. Oh, and if you want to add a little extra poof to your quince gown, you may end up spending a bit more on a crinoline petticoat (hoop skirt).
Alterations: Like accessories, alterations are not part of your up front quinceañera dress cost, but you'll still want to consider any fees your dream quince gown might rack up in order to get yourself the perfect fit. Most people at least need hemming done, but you might also need some of the bodice taken in or straps adjusted. The more extensive the changes, the more you will spend on alterations.
Now that you know about how much quinceañera dresses usually cost, as well as why they can be expensive, you can start saving for your dream gown. Ready to shop? Check out the quinceañera dresses at PromGirl! You can even filter your options by price so you're only tempted to spend within your budget.
Looking for more answers to all of your quinceañera questions? Head back to PromGirl's Quinceañera Guide to check out all of the FAQs and topics available.