Should I Shop Quinceañera Dresses Online or in Stores?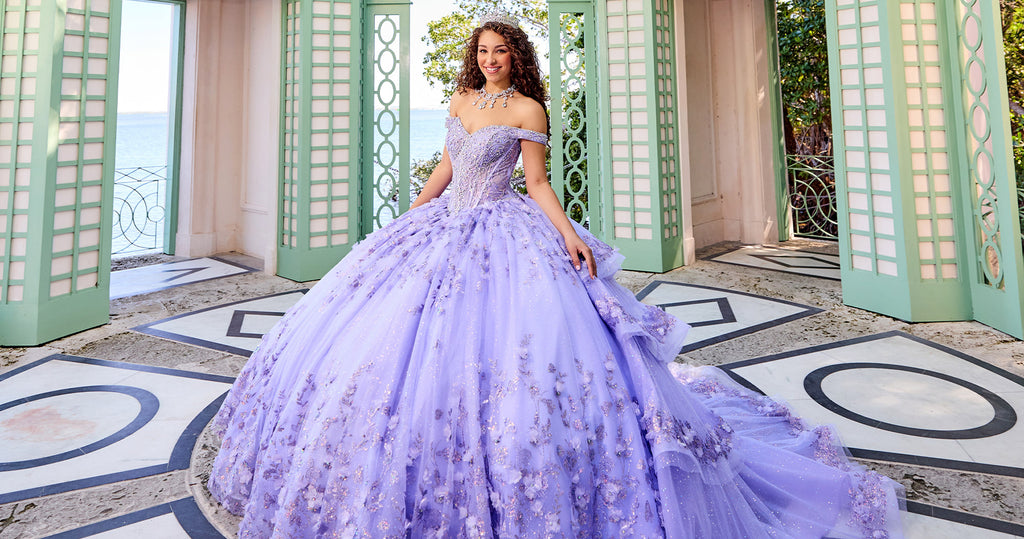 With so many quinceañera dresses online these days, you've probably wondered whether you should shop online or in stores for your quince gown. There really isn't a right or wrong answer here, as you could shop quinceañera dresses online, in store, or some combination of both, depending on your personal shopping preference! To help you decide on the best option for you, let's take a look at some of the advantages to shopping quinceañera dresses online vs. in store.
Perks to Shopping Quinceañera Dresses in Stores
Try a Variety of Colors/Styles: Since all of the styles are right there in front of you, you can easily feel all the fabrics, see all of the colors under different lighting, and experience each size and design on your figure. Sometimes you might have to hop from store to store to get the best variety of designers and quince gown features, but by the end, you'll have a better idea of your size comfort zone and personal style preferences.
Can Wait to Commit (Try Before You Buy): Even if you're feeling some sales pressure from store associates, there is normally no obligation to buy a quince dress when you are trying them on in store. Afterall, buying a quinceañera dress is a huge financial commitment in many cases, so it's important to explore your options and maybe even fall in love with a gown before making the leap to purchase!
Can Bring the Whole Crew: Most stores that sell quinceañera dresses will have salon-style sitting areas for the whole quince court to join you and celebrate this experience with you! You can hear all of their ideas about the different styles you try, and then decide if you want to take that advice or toss it all out. (It is YOUR cumpleaños, so your opinion trumps all!)
Have Faith in Sizing and Reputation: Being able to step inside the store and speak to associates builds up a lot of faith, trust, and confidence in the validity of the quinceañera dress seller. You know that the size you are trying on is going to be the same if you decide to make a purchase, so there's less worry about receiving a delivered quince gown that's off in sizing or quality compared to what you saw in the store. And of course, if you do have a concern with the gown you receive that you purchased from a store, you can easily walk right in and speak to an associate about it.
Perks to Shopping Quinceañera Dresses Online
More Styles at Your Fingertips: While your standard brick-and-mortar store only has so much space to hold and showcase voluminous quinceañera dresses, websites don't have the same restraints! You can find hundreds, if not thousands, of quince gowns online, so the chance to find the perfect dress for you is much higher when you shop quinceañera dresses online.
Easier to Discover a Unique Quinceañera Dress: Since shopping quince gowns online makes it easy to look for styles beyond your local shops, you're far more likely to find a one-of-a-kind design that no other soon-to-be 15 year old in your town has had!
Easy to Shop for Coordinating Damas Dresses: A lot of quinceañera dress websites not only offer quince gowns, but also damas dresses. (PromGirl does! Take a peek at the quince gowns and damas dresses here.) With just a few clicks, you can easily bring up several possible combinations of quinceañera dresses you love paired up with your court of honor dresses. Chances are also high that if you're shopping all on the same site, you can find damas dresses that were deliberately styled to coordinate with the quince gowns that are available there.
Can Make Your Own Decisions Before Bringing in the Whole Crew: Maybe you prefer not to have everyone sharing their opinions or trying to talk you out of styles you like, which is most likely going to happen if you try on quince gowns at local boutiques with your friends and family. Nothing wrong with that! Shopping for quinceañera dresses online can be done at any time or place right from your phone. Whether you choose to share some of the gowns you discover along the way or not is entirely up to you, so it's easy to make your own decisions while narrowing down your options when you shop online.
Shop in Confidence with the Right Retailer: When you choose to shop for quinceañera dresses through an authorized online dress retailer, you don't have to worry about receiving a messy knock-off style or losing money on a scam website. Established quinceañera dress sellers have trustworthy off-site reviews, years of experience in the dress business, and a variety of offerings from well-known designers. For example, PromGirl has been in the business of special-occasion dresses for over 25 years and has a customer service team within the U.S. that's easy to contact with any and all questions. Check out the following blog post for all the reasons why you can feel safe shopping online at PromGirl: The Place to Shop for Quinceañera Dresses.
Clearly there are a lot of advantages to shopping for quinceañera dresses online and in stores, so how do you choose? PromGirl thinks…you shouldn't have to choose! Do both! Try on many different quince gowns in store, then take the time to shop quinceañera dresses online too. Once you have a good feel for sizing, fabric texture, designers you prefer, and embellishments you love, you can easily decide if you want to buy your quinceañera dress online vs. in store based on where you find your dream gown. Who knows? You might have already set your heart on a style you tried on locally, or you might be able to use the experience you gained trying on gowns to find a one-of-a-kind quinceañera dress online in the perfect size.
Looking for more quinceañera tips and tricks? Head back to PromGirl's Quinceañera Guide to check out all of the FAQs and topics available.