How to Be Cute and Modest in a Prom Dress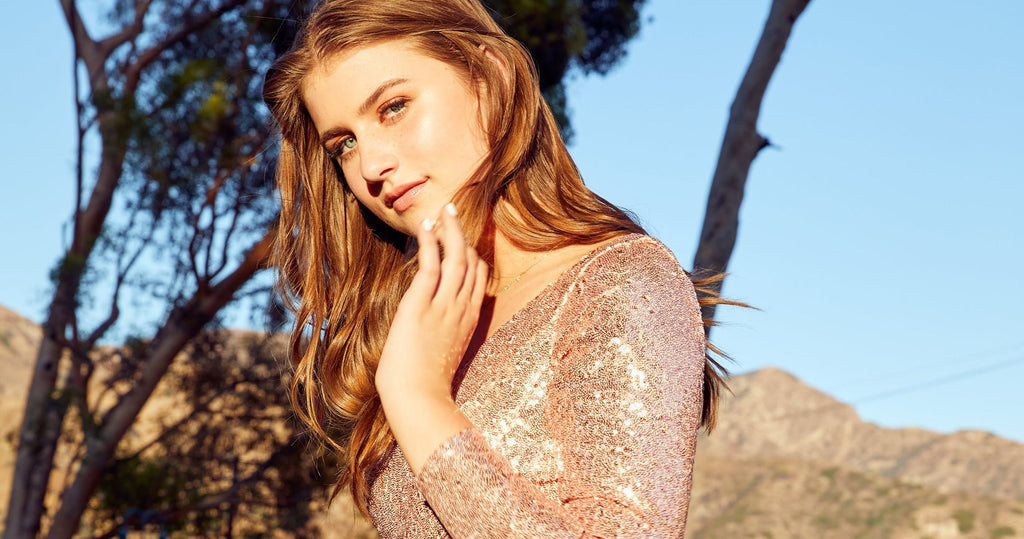 Just because you prefer a modest prom dress design doesn't mean you have to lose out on style! There are so many ways to pull off a chic, but modest look. If you're wondering how to be cute and modest in a prom dress this season, check out the following top 4 cute and trendy styles that also pass the modesty test.
1. Dresses with Sleeves: Picturing old-school puffy sleeves like you'd find on the conservative dresses your grandmothers wore? No need to cringe and shy away from sleeves! There are so many on-trend sleeve options to explore, so consider wearing a modest prom dress with sleeves! Elbow-length, three-quarter-length, and long sleeves offer the most coverage, but there are also cap-sleeve and short-sleeve formal dresses too! If you check out PromGirl's modest formal dresses with sleeves, you'll see tons of non-cringeworthy options like sheer mesh, draped, and lace sleeves.
2. High-Neck Gowns: When it comes to finding a conservative (but still cute!) prom dress, a high neckline is a stylish way to accomplish this! Covering the collar bone up to the neck, these gowns sometimes even include a chic collar. Depending on your style, you can choose a high-neck gown with a simple collar or choose one that is embellished with lace, sequin appliques, or beadwork for a trendy twist.
3. Dresses with Modesty Panels: If you want a modest formal dress, but you also love trendy features that don't scream modest, like cut outs, an open back, or a plunging neckline, don't fret! Simply look for styles with illusion panels so it looks like your skin, but you're covered! These strategically placed panels are also often embellished with chic embroidery or sheer lace, which means your cute prom dress leaves the drama behind without compromising the stylish appeal.
4. Knee-Length to Long Dresses: Modest prom dress lengths include knee length, tea length, ankle length, maxi, and floor length, and you're in luck! Long prom dresses are by far the most popular, and tea-length dresses are trending lately. Choose your preferred amount of leg coverage to determine which length will keep you comfortable and happy. Be sure to check out PromGirl's knee-length dresses or long dresses if you need ideas!
Using the top 4 style suggestions above, you'll have no trouble finding a modest, but cute prom dress you love. Like more than one of these dress features? Well, you're not alone! A lot of prom dresses feature more than one, such as a conservative high-neck prom dress with long sleeves or a long prom dress with sheer modesty panels. Did you fall in love with a different style and you're looking for ways to make it more modest? Check out PromGirl's blog on how to add modesty to your prom dress here.