Adding Modesty to Your Prom Dress: 5 Easy Fixes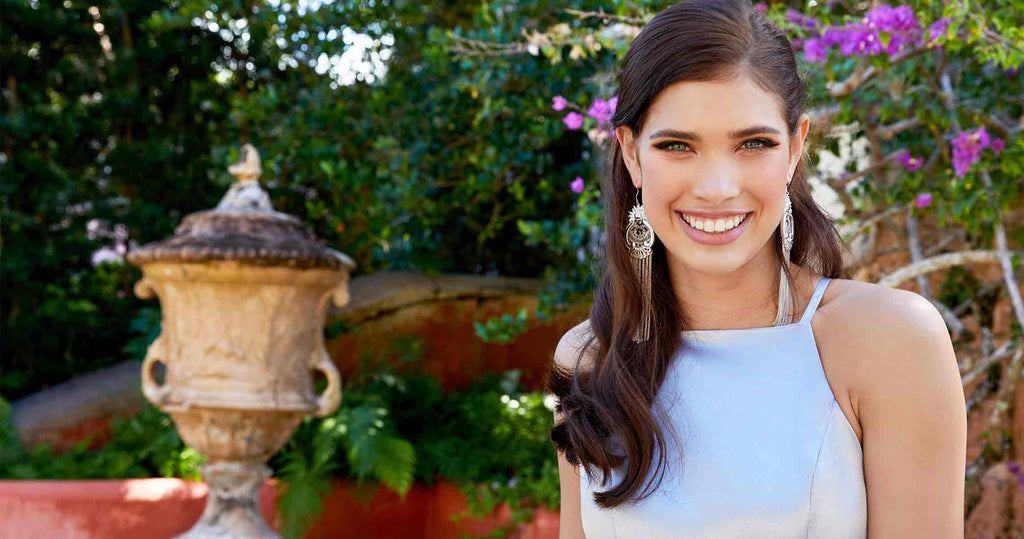 So, you have your dream prom dress, but now realize that meeting the school prom dress code may be tricky with your sassy, fashion-forward gown. While it may be the ideal style for you, if your prom dress is deemed inappropriate, what's a girl to do? Here are five easy ways to make prom dresses modest:
1. Layer Your Look.
Add coverage under or over your prom dress for a temporary fix that won't change the design. If your prom dress is too short, try layering with leggings that coordinate or beautifully contrast. Another option for covering the legs and adding some fashion flair, a dress extender is worn like a traditional slip with decorative layers of lace or ruffles that hang lower than the hem. Need to cover up a too-revealing backless prom dress? Layer it up with a stylish bolero jacket, a shrug, or a shawl. Or fashion yourself a modest prom dress with an infinity scarf that can be draped over the back in a way that makes it look like the dress was originally designed that way.
2. Stitch in Modesty Panels.
If you're not sewing-savvy, a seamstress can make quick work of adjusting a too-low-cut prom dress by sewing an inset into the neckline. When cut outs on the sides, back, or midriff of your dream prom dress are a no-no with your school, again a seamstress can fix this by sewing fabric beneath the "holes." Have a modesty panel sewn across a backless dress, or add a ruffle or additional fabric to the hemline of a too-short dress. These adjustments can change the design of your prom dress, but can also add some fun and unique details too!
3. Add Illusion Fabric.
Illusion fabric is stylish compromise allowed by some schools as a way to add more coverage to daring features. Sheer, lace, or opaque illusion insets can often be added to plunging necklines, cut outs, or open-back details to make them school appropriate. Although a seamstress can do this with ease, be sure to check with your school dress code to confirm that sheer fabric is acceptable.
4. Keep Safety Pins Handy.
For last-minute fixes, safety pins can do the trick! Does your long prom dress have a skirt with a high side slit? If you're not sure it will pass inspection, keep a few safety pins in your clutch just in case the peek-a-boo dress is flagged at the door. If you're pretty sure that the peek is going to get a boo from the school staff, pin or stitch the slit up a few inches beforehand. Pro Tip: Masking tape can also come in handy!
5. Tube Tops to the Rescue.
If sewing is not your thing and a seamstress is not an option, a tube top can act as an undergarment. If a plunging neckline is a no-go, adding modesty to your prom dress is as easy as pulling on a tube top or a cami underneath. Blending in or adding a pop of color under cut outs, exposed midriffs, and open backs, a tube top is an inexpensive and easy way to make prom dresses modest.
For prom appropriate dresses, you can make sure that you are meeting the school prom dress code by checking the rules carefully in advance. If you find that you need to add a dash of modesty to your chosen style, try one (or more) of the five easy fixes above on how to make prom dresses modest so that you can enjoy the night of your life worry-free.