When to Shop for and Buy Your Sweet 16 Party Dress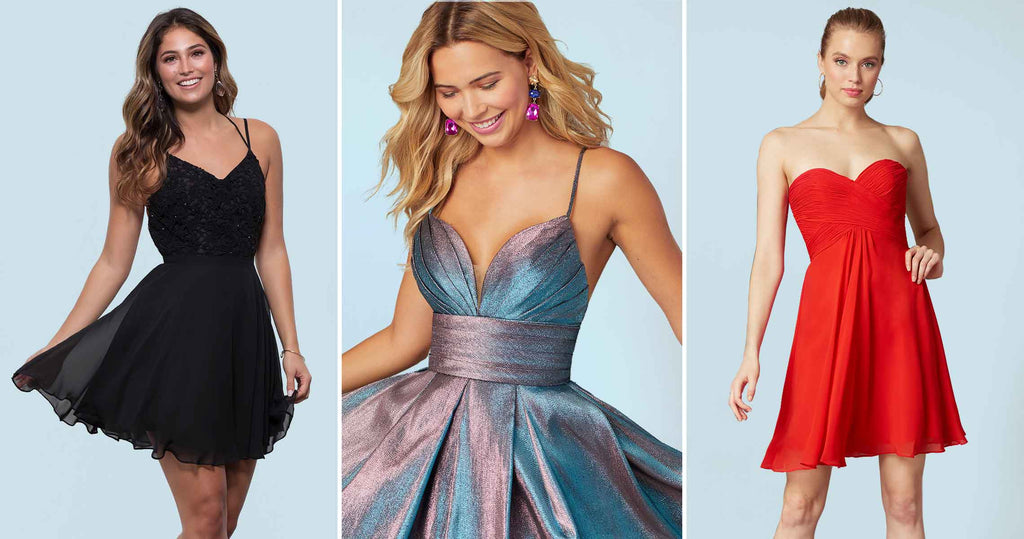 When to Shop for and Buy Your Sweet 16 Party Dress
A month-by-month breakdown to finding your perfect dress.
If you have one of those total type-A personalities, we know that figuring out when to buy your Sweet 16 dress probably tops your party planning list. But the truth is that buying dresses for Sweet 16 parties should not be the first task. There are a number of party planning to-dos you'll want to check off your list beforehand. From what to do first to shopping for Sweet 16 dresses, narrowing them down and picking your Sweet 16 dress, Prom Girl has you covered.
12+ Months Before Your Party: Think About your Party Theme, Venue, and Budget
If you're more than a year away from your party, we highly recommend focusing on the party theme, colors, venue (if not at your house), and party budget. Start with these big-picture party to-dos and once you have those in place, you'll be ready to start shopping for Sweet Sixteen party dresses!
9-12 Months Before Your Party: Start to Shop for Sweet 16 Dresses By Saving your Favorites
It's time to begin looking for and shopping teen dresses online. As you find dresses and styles you like, save them. (We have a favorites heart button you can use on PromGirl to save your picks!) Don't worry too much about the price point yet. Just save the ones you like so that you can get a sense as to the styles and color you like.
6-9 Months Before Your Party: Narrow It Down To Your Top Dresses
At this point, you can get a little more serious about dress shopping. Go through your favorite dresses and look for recurring themes. Are they all scoop necks? Did you mostly save dresses with longer hemlines? Or maybe you chose a mix of styles but most of them are different shades of pink. Make a list of these must-haves and then start to narrow down your options. If you can, get your list down to three dresses. Then, enlist the help of one or two people to help you decide. That could be your mom, best friend or favorite aunt or cousin. It's most important that the person you choose to help you decide is someone you trust to help you make a dress choice you'll love and feel confident wearing.
4-5 Months Before Your Party: Buy Your Dress!
Now for the fun part: It's time to buy your Sweet 16 dress! If you're buying it on Prom Girl and have questions before you buy, ask us using our chat box on PromGirl.com. We're here to help! And if you do end up buying your dress online, chances are good that it'll arrive within a week. Once you have your dress in hand, don't be shy about trying it on to make sure it fits properly. Buying 3-5 months out from your party will give you plenty of time to exchange for a different size if need be.
2-3 Months Before Your Party: Find Accessories, Shoes and Undergarments
You're not done yet. Once you have your dress hanging in your closet, you'll want to make sure you have the right shoes, jewelry and undergarments. Start with the shoes. If you plan to wear heels, you might also want to shop for a pair of flat ballet shoes that you can change into later in the night. And keep the season in mind too. If it's going to be chilly, think about a shawl or throw to keep warm. As far as your accessories go, less is usually more. If you have an open neckline, find a fun necklace and a pair of simple earrings. If you'll be wearing a higher neckline, go for statement earrings and skip the necklace. Finally, don't forget the undergarments. (For example, if it's an open back dress, you may need to find a special bra that doesn't wrap around the back!)
1 Month Before Your Party: Have Alterations Made
You want your dress to fit you perfectly. So whether that means hemming the skirt to just the right spot above the knee or bringing in the bodice, there may be a few needed adjustments. Make your appointment and then when it comes time, don't forget to take your shoes, undergarments, and accessories with you. That way, your seamstress will know exactly where to alter your dress! After alterations, your dress should be exactly the way you want it. Give it a little test drive (as in, wear it around the house for a few minutes) a week or two before the party to make sure you love the way it moves and looks!
Shop all Sweet 16 dresses at PromGirl.