Should I Choose a Long or Short Sweet 16 Dress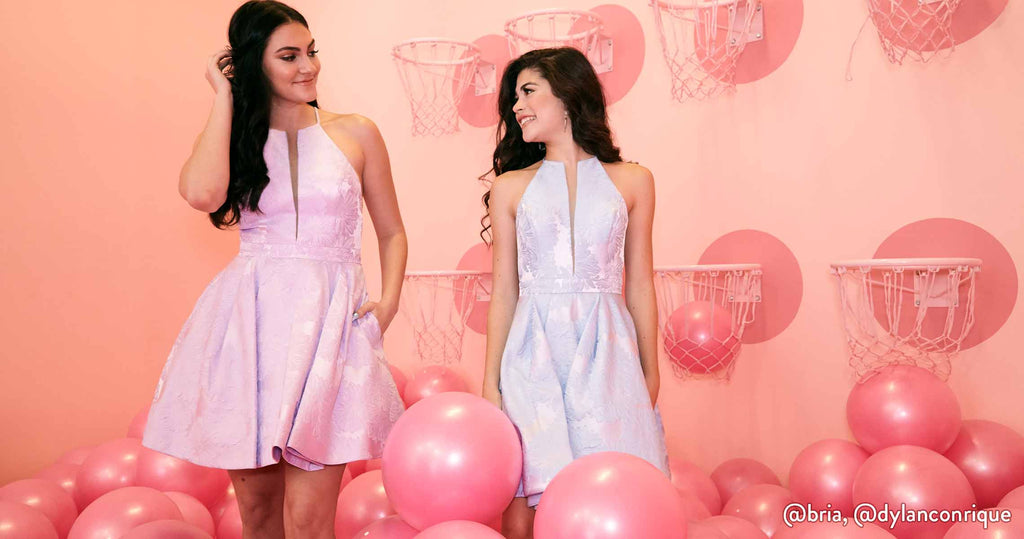 The ins an outs of deciding on sweet 16 dress lengths.
Q: My Sweet Sixteen birthday is about five months away, and I'm starting to shop for Sweet Sixteen dresses. The party is going to be in a loft space downtown, and we're doing soft pink and gold decorations. We're having a DJ, and I really just want it to feel like a party on the dance floor with all my friends. So my question is, what dress length do girls normally wear for their Sweet 16? My mom thinks I should be looking at long party dresses, but I think I'd be more comfortable wearing a short one.
A: You're not alone! Deciding on a length for Sweet 16 dresses is a question we get all the time. Before you go into battle with mom about the hemlines on dresses for Sweet Sixteen parties, take a step back and think about the party itself. Generally speaking, if you're having your party at a formal venue with a formal theme similar to prom (like in a hotel ballroom with centerpieces on all the tables), then a longer hemline is totally in order. It doesn't sound like that's the case for your party though. Short party dresses are more than appropriate for a modern venue like yours. If mom is concerned about you going too short, compromise and look for short teen dresses with higher necklines. Also, once you've found your dress, don't forget to think through your shoes and accessories. A short dress calls for a fun pair of heels. Hope this helps!
Xo
The PromGirl Team