5 Tips to Picking Sweet Sixteen Court Dresses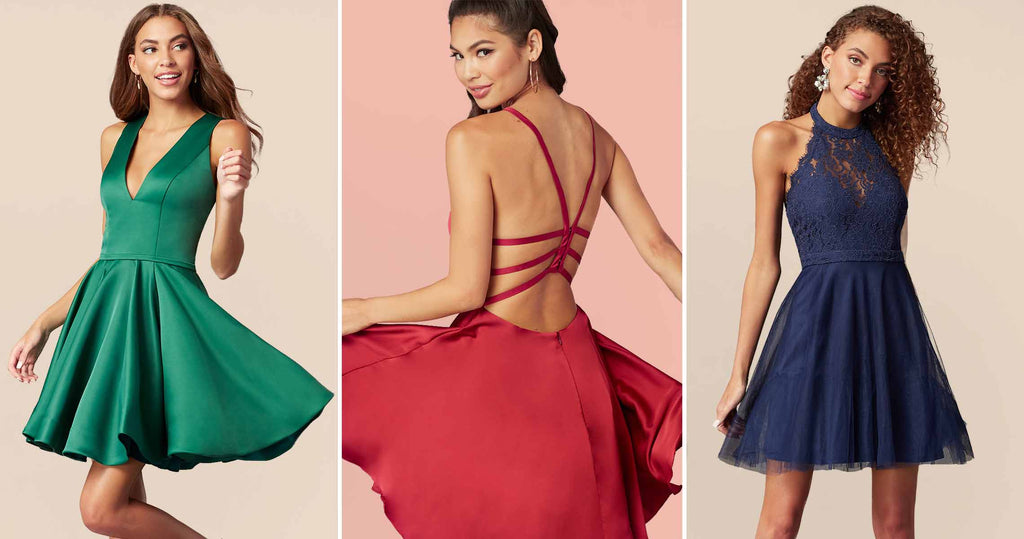 Here's what to know before you shop!
The idea of a Sweet 16 court is to recognize some of your closest friends as you celebrate a big milestone birthday. Shopping for Sweet 16 court dresses is a ton of fun! But before you start saving dresses and popping them into your cart (right here on Prom Girl of course!), there are a few factors to consider. From how to pick Sweet 16 dresses to shopping for Sweet Sixteen court dresses, here's what to know.
1. First consider your venue.
You would never wear a floor-length dress to the mall and in the same way, you'll want to make sure that your court dresses coordinates with your venue. So if you're having a big party in a ballroom, then long formal dresses or formal short dresses are both an option. On the other hand, you'll want to stick with short party dresses and something slightly less formal if the party is going to be at a nearby restaurant or your house.
2. Have your colors and theme in mind.
We're not saying their dresses have to perfectly match the tablecloths (like just because you're having a purple party doesn't mean their dresses have to be purple). But, you will want to make sure that the colors and style you choose makes sense with the rest of the room. So think about dress colors that complement your party theme. Not sure where to start? Neutrals like blush, gold, silver, navy are all great places to start!
3. Know your budget.
There are really only a couple times during your high school years that you and your friends will end up buying a nice dress: prom and your Sweet 16. Dresses for Sweet 16 courts really range in price depending on how formal and embellished of a dress you choose. The designer and fabric type also plays a big role. So before you start filtering by neckline or dress style, have an idea in your head as to how much your friends can spend on their dress. That way, you'll be able to narrow the options up front. Need an idea as to how much they cost? Just go browse our gallery of Sweet 16 and teen dresses on PromGirl right here!
4. Choose your dress before your Sweet Sixteen court dresses.
The tip here is simple: If you plan to have a Sweet 16 court, then just make sure that you find your dress first before you start looking for theirs. That way, you can look for court dresses that coordinate.
5. Don't feel like you have to go with matchy-matchy court dresses.
Traditionally, the Sweet 16 court wears matching dresses, but they don't have to! Instead of having them wear the same dress, choose a color and a fabric and let them choose their favorite designs. It'll let them show off their personality and choose a dress style that fits them best while still honoring you.