TOP 5 TIPS FOR PICKING SWEET 16 PARTY DRESSES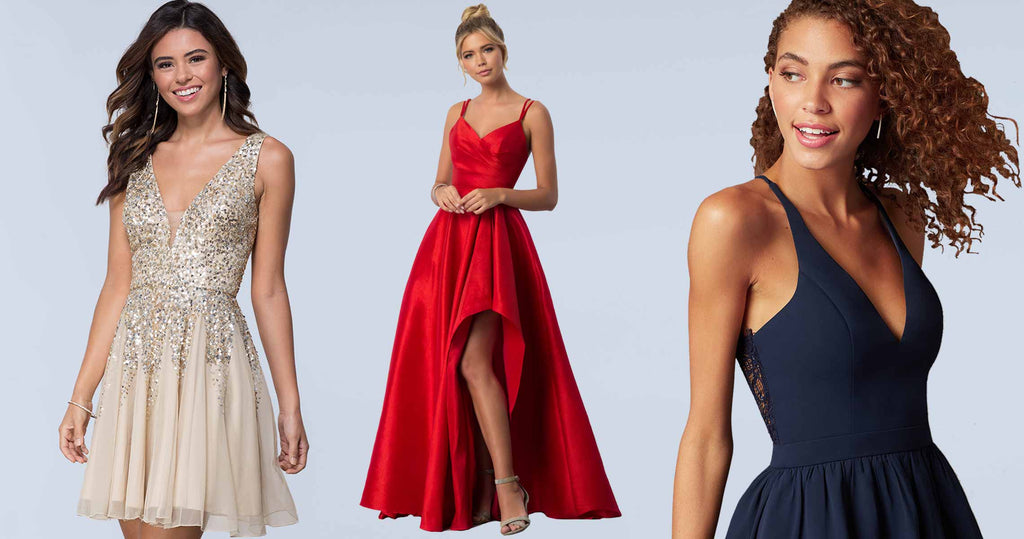 Your dress shopping guide.
If your sweet 16 is right around the corner, then you need a gorgeous dress. But before you start the process of shopping for sweet sixteen dresses, it's important you have an idea as to what you're really looking for. Do you want super over-the-top and glam? Or are you thinking of something a little more laid-back? From deciding between long and short party dresses and figuring out how formal to go, read our top PromGirl tips on how to find the perfect dress for your big birthday!
1. Decide how formal you want to be.
The easiest way to figure out how formal to go is to think about the type of birthday party you're having and then to look for sweet 16 dresses that fit the vibe. So if you're going all out with a big sit-down dinner in a hotel ballroom or fancy venue, long party dresses and gorgeous embellishments like sequins and lace should be at the top of your list of dress must-haves. On the other hand, if you're having more of a club vibe (like lots of dancing and small bites), you can totally get away with a short dress or a dress with a high-low hemline. Either way, before you start searching for dresses for sweet 16 parties, having a sense as to how formal you want to go will make the shopping process so much easier.
2. Or let your dress guide your entire party theme!
On the other hand, you could flip the script and find your dream sweet 16 dress first and then let your dress inspire your entire party! For example, if you end up falling in love with an amazing short, sparkly blue dress (from PromGirl of course!), then maybe your birthday party can involve lots of blue up-lighting, sparkler party favors, and blue shimmer invites. The best part about this idea is that designing your party around your dress will ensure that all the party details look cohesive and totally put-together.
3. Consider the dress styles that fit you best.
Whether you're going for something short or long, another huge part of finding formal dresses is to have a good understanding of what dress styles look best on you. So look through your closet and scroll through photos of yourself in dresses you've worn to other special occasions. Was there a standout dress that made you feel gorgeous? If yes, then think about the elements of that dress that you loved the most–from the neckline to the sleeve style and overall silhouette.
4. When in doubt, start with A-Line dresses.
If this is the first time you've shopped teen dresses and you haven't gone to prom yet, then there's a good possibility you haven't had much experience with formal dresses. In that case, we suggest you start by searching for dresses with a-line silhouettes. Why? They're generally considered the most flattering dress styles because they're cut at the natural waist (just above the belly button) and then flare out from there.
5. Go with your gut.
Chances are good that you'll find more than a few dresses that fit and look good. So as you go to decide on "the one," ask yourself which dress makes you feel amazing. The dress that makes you feel the most beautiful and comfortable is absolutely the one you should buy. Oh, and if you find yourself not being able to decide between two styles, get two. Start with the more conservative, simple one and then do a dress change halfway through the party!
Now that you've read our top tips, it's time to start shopping!
Shop all sweet 16 dresses right here