Best Ways to Save on Sweet 16 Party Costs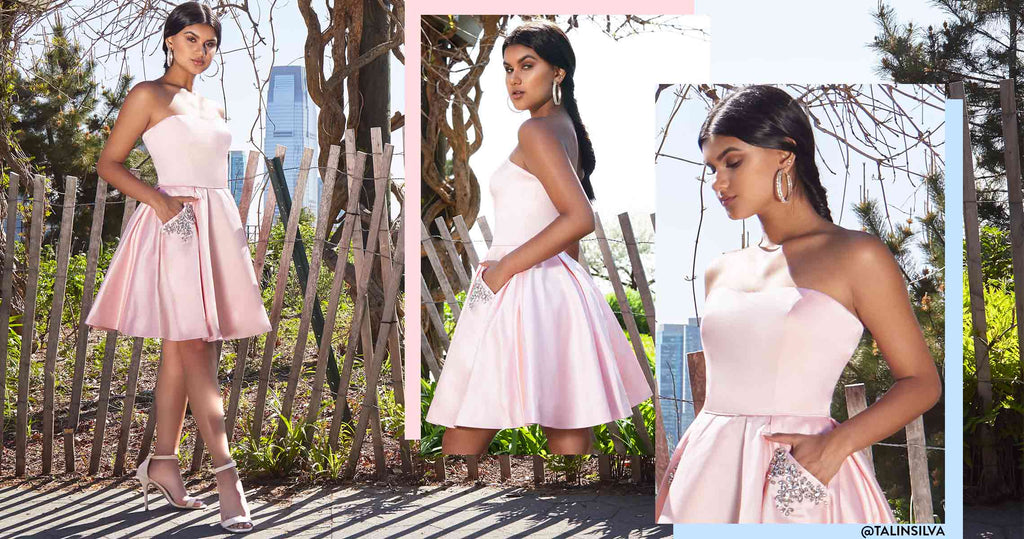 It's totally possible–you just have to get creative!
Unless you have unlimited funds for your Sweet 16 party (said no one ever), you're going to have to find ways to save. But budgeting for Sweet 16 parties doesn't mean you can't have what you want. Our best advice: Start by naming your top one or two priorities for the party. For example, maybe you want to wear a gorgeous dress and you've always imagined a dance floor with DJ. In that case, you'll want to allocate most of your funds toward shopping for Sweet 16 dresses and finding a DJ to ensure your friends get out there and dance. Then, look for ways to save on the rest. On the other hand, maybe food and amazing decor are more your thing. Whatever it is that you want to invest in, name it and do it. Then, scan the list below for our top PromGirl budgeting ideas to saving big on the rest of your party!
Budget Ideas for Sweet 16 Party Invites
Instead of sending out paper invites with several inserts, including an RSVP card, go for email invites. Go this route and you'll not only save on paper and design time, you'll also save a ton of postage (one of those hidden costs that no one talks about but can add up fast!). Just collect your guests' emails and then head over to a site like Paperless Post. Sites like that let you pick your favorite design (they have lots of cute Sweet 16 party invites!), personalize it, and then send it to your guests.

Tip for the Taking: You can also use a site like Paperless Post to help you track the RSVP status of all your guests so that you don't have to track them all manually (genius).
Budget Ideas for Sweet 16 Dresses
We have a ton of tips on ways to save on your dress, but one of the first factors you'll want to keep in mind is dress length. Short dresses usually cost less because there's less fabric involved. Other factors that will increase the price of party dresses include fabric (certain fabrics cost less than others) and embellishments (the more add-ons, the more costly).
Tip for the Taking: Another way to score big on your dress without spending a ton is to shop online sales, especially dress outlets. For starters, try shopping our PromGirl sale page and our PromGirl Outlet for some seriously affordable Sweet Sixteen dresses!
Budget Ideas for Sweet 16 Party Hair & Makeup
Professional hair and makeup is a great way to go if you can afford it. But if that's just not in the budget, then get creative. You can look for local hair and makeup schools. Oftentimes, there are pros-in-training who will do it for you at a discount. Another option is to make an appointment at a makeup counter. In most cases, makeup application is free and then there is an expectation that you'll buy at least one product. (Plan to buy the lip gloss or lipstick they use on you so that you have something for touch-ups later!)
Tip for the Taking: If you really don't have anything to spend, ask a friend or do it yourself. Just do a few practice rounds ahead of time so that you feel confident you can get the look you want.
Budget Ideas for Sweet 16 Party Food
Food and drink will have the biggest impact on your overall party budget. A big sit-down catered dinner is going to run up the bill big time. But there are lots of other ways to serve up great food and drink without going that route. For one: Have your party start time fall either between lunch and dinner or after dinner. That way, there's not an expectation that you'll be providing a full meal. And limit the options. Instead of lots of different foods, choose just one or two. And do the same with drinks.
Tip for the Taking: Let your party theme and colors inspire your menu so that the pared down menu looks purposeful (not budget). For example, if it's a garden party, serve small tea sandwiches and pink Shirley Temples. If it's an after-dinner party, you could do mini sliders and Coke bottles!
Budget Ideas for Sweet 16 Party DJ & Entertainment
For great music all night long and a dance floor packed with your closest friends, a DJ is definitely your best bet. To save money, try asking an aspiring DJ friend. If you don't know anyone, ask around: It's very possible that amongst your friends, someone has an older sibling who could do it for you. If that doesn't work out, load up an Apple music or Spotify playlist and create your own dance party vibes. Just make sure you have someone there at the party