PromGirl: The Place to Shop for Quinceañera Dresses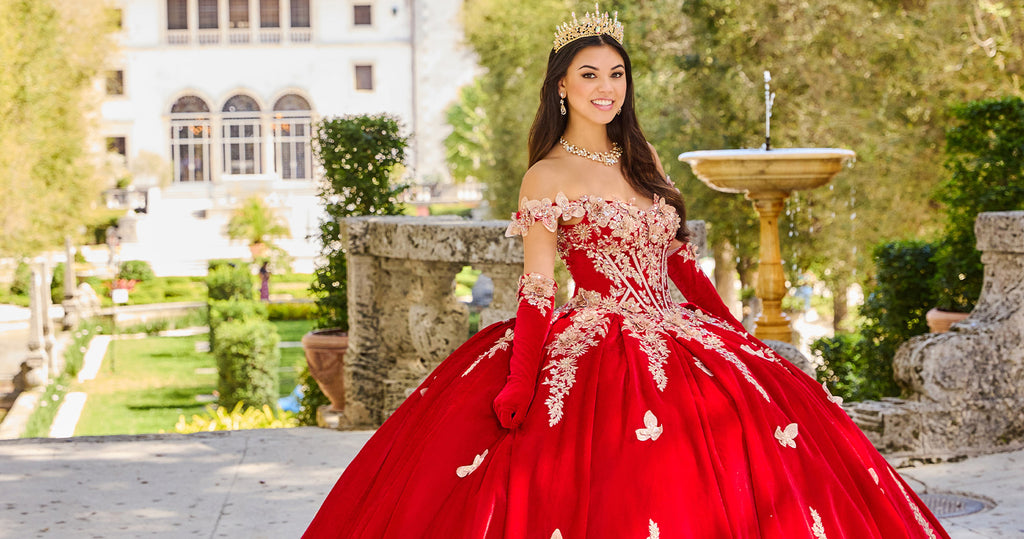 In your search for the perfect quinceañera dress online, it might not have occurred to you to check out PromGirl…but you totally should! While prom certainly holds a special place in PromGirl's heart, there are so many types of high-quality dresses available that it's easy to become BFFs for every fancy occasion, especially your quinceañera! Read on for just a few of the reasons why you should shop PromGirl for quince dresses and damas dresses.
Formal Fashion Expertise: For over 25 years, teens have turned to PromGirl for their dream prom gowns, gorgeous hoco dresses, statement sweet 16 dresses, and more. Already an expert in teen formal fashions, PromGirl uses that experience to provide a variety of showstopping, on-trend quince dresses and stylish damas dresses that your whole court of honor is sure to love.
In-Touch with Trends and Traditions: With a finger on the pulse of the fashion industry, PromGirl knows that quinceañera dresses and damas dresses should feature a variety of cutting-edge designs and classic styles for every girl's dream fiesta. Whether you envision your transition to adulthood to be filled with all of the latest trends or channeling your family's traditions, PromGirl's quinceañera and damas dress collections offer stunning designs that beautifully balance new and timeless styles.
Safe and Established Online Site: Since PromGirl's been in the dress game a long time, you know you can trust the quality and authenticity of PromGirl quince dresses. In fact, PromGirl is considered an expert online retailer of quinceañera gowns and damas dresses based in the United States. Wondering how you can check to make sure that a quinceañera dress online site is secure and safe? Check out PromGirl's safe quince dress shopping tips right here.
One-Stop Shop for the Whole Court: There's no need to shop at multiple stores to find your quinceañera gown and then even more stores to try to find coordinating damas dresses! At PromGirl, you can pick out your quinceañera dress online and then easily shop for matching damas dresses with just a few more clicks.
Host of Popular Designer Gowns: PromGirl features jaw-dropping quince styles from a range of well-known designers. For example, are you head over heels enamorada with the Princesa by Ariana Vara line? Well you're in luck! You'll find a dazzling selection of Princesa quinceañera dresses in a variety of colors and styles that are sure to please.
Personalized Fashion Advice: Whether you have a few questions about a particular style, want advice about flattering dress features, or need tips on how to coordinate your quinceañera court of honor dresses, PromGirl is here for you! Simply hop on over to the customer service Contact Us page to send us a message, and PromGirl's fashionistas will help.
All-You-Need-to-Know Quinceañera Guide: Providing exquisitely designed quinceañera dresses isn't all that PromGirl has to offer! Sharing everything you'll need to know to plan, budget, and celebrate in style, PromGirl's Quinceañera Guide has got your back as you prepare for your milestone cumpleaños.
Basically, when it comes to your 15th birthday, PromGirl is here to help you (and your girls) look absolutely fabulous, whether your style is more pretty, pretty princess, Hollywood diva, or somewhere in between. Now that you know why you should shop PromGirl for quince dresses and damas dresses, it's time to dive right in! Shop PromGirl's collections of damas dresses and quinceañera dresses online to find your favorite styles for you and the girls in your court of honor.
PromGirl isn't just an expert on formal dresses. You can turn to PromGirl for all of your quinceañera questions! Head over to PromGirl's Quinceañera Guide to check out all of the FAQs and topics available.