Do Quinceañeras Have Themes?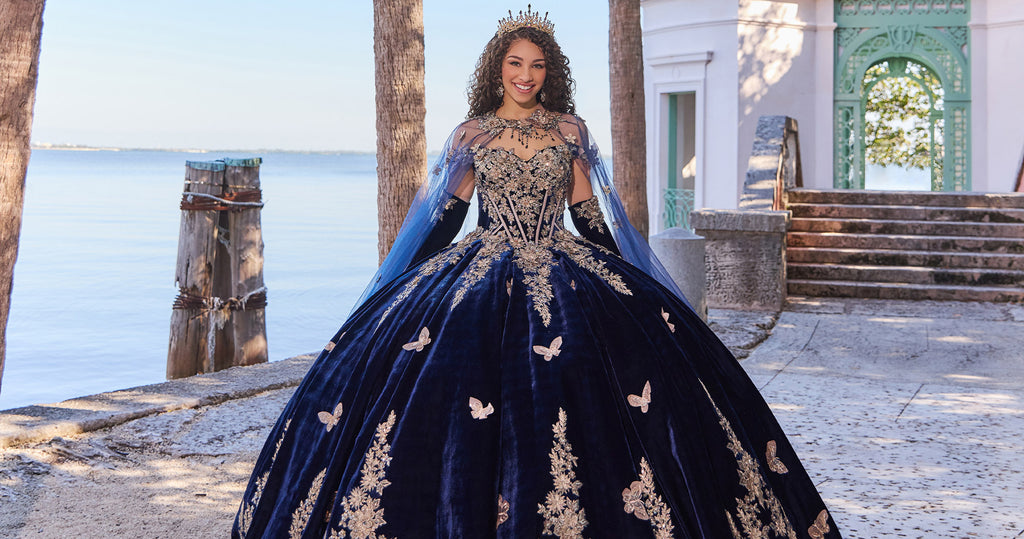 xWhile certainly not required, most quinceañeras have themes. Why is that, you ask? Having a quince theme can level up the fun factor for you, the birthday girl, and all of your guests! With all of the decor, music, and outfits set to the same vibe, everyone can feel like they just stepped into a whole new world when they show up at your grand fiesta! And really, when you're throwing a once-in-a-lifetime celebration, why not go all out with a quince theme that speaks to you? From movie-star glitz and glam to elegant princess quince themes, there are unique quinceañera themes for every girl. You could even plan your quince theme around the spring, summer, fall, or winter seasons! Truly, the possibilities are endless. But, have no fear if you find yourself worrying and wondering, "What should my quinceañera theme be?" PromGirl is here to kickstart your brainstorming with this list of eight popular quinceañera themes.
Top 8 Most Popular Quinceañera Themes
Masquerade Ball Quinceañera Theme: Fancy elegance is the name of the game with masquerade quinceañera themes, along with a dash of mystery to spice things up. Certainly one of the most popular and fun themes, a masquerade quinceañera party encourages guests and the court to wear decorative masks. Imagine chandeliers and candelabras lighting up a room full of dark hues like black, eggplant purple, or navy blue. Enter the Quinceañera dressed in a ball gown with a shimmering metallic color like gold or silver that pops against the dark decor and sparkles under the lights.
Fairy-Tale/Disney Princess Quinceañera Theme: Choose your favorite Disney princess or fairy-tale character as your persona for the night, and build your whole look (from your quince gown to your accessories) around that character. Then decorate your venue to match that character's world. For example, dressing yourself up in a Tiana-inspired quince gown a la Princess and the Frog means you can go all out for 1920s decor too!
Paris-Themed Quinceañera: A Paris quince theme is all about glamor and romance, so it's the perfect way to show off your glitzy feminine side. Pink and gold, like a Parisian sunset, are popular colors for this theme. And of course, the Eiffel Tower needs to make an appearance somehow, whether it's on the invites, a photo backdrop, or even an ice sculpture!
Winter Wonderland Quinceañera Theme: Think pale blues and whites for a snowy, ice-inspired ambience. Imagine stepping out in a silver glitter or white quinceanera dress amid a sea of wintery blue hues…simply breathtaking! Snowflake imagery and decor is always a welcome addition, as well as snow-kissed floral arrangements or white lights on holiday pine trees.
Under the Sea Quinceañera Theme: Create an underwater oasis with your decor by pulling colors from the ocean like blue, green, and bright pops of color for coral or sea life. Go for sand, shells, and sand dollars instead of flowers for your table arrangements. To channel mermaid vibes for this quince theme, consider iridescent, shimmering fabrics for you and your quince court. When it comes to dress styles, try a quinceañera dress with ruffles like rippling waves or a quince gown with colorful lights that reveal the ocean's deepest secrets.
Hollywood-Themed Quinceañera: Roll out a red carpet for your big debut! But it's not just the carpet that's red… Decor, quinceañera gowns, and damas dresses for this quince theme are often a combination of red, gold, and black! Consider giving yourself a special director's chair for the party or putting out "photo reels" of your birthday pictures throughout the years. Will there be a mini movie starring yours truly that plays exclusively at your premier birthday extravaganza? And don't forget to set up a roped off area for guests to approach and request special one-on-one photo opportunities with you, the Quinceañera! Afterall, you are the local celeb for the day!
Enchanted Forest Quinceañera Theme: Think fairies, dragons, and all things magical for this quince theme! Take an outdoor venue and add enchanting decor with beautiful purple hues, twinkling lights, lots of flowers, and maybe even a bubble machine. Lilac purple or emerald green quinceañera dresses are top picks for this theme. Oh, and remember to have your court help you sprinkle your guests with fairy dust as they join the celebration!
Charro Quinceañera Theme: A charro is a Mexican cowboy with a very traditional outfit, especially the classic sombrero. In fact, for this quince theme, why not just have sombreros for everyone…even the Quinceañera! The colors for this theme are vibrant and plentiful, including blue, purple, red, yellow, and green (though they can be limited to the red, green, and white of the Mexican flag). Usually a combination of black and red or white and red, traditional quinceañera dresses with bright floral embroidery and lots of ruffles are popular for this quince theme. Bonus if you hire a live mariachi band to play during your fiesta!
While these eight topics are certainly good quince themes to start with, the most important thing is to choose a theme that makes you happy. Go unique with your quinceañera theme when you veer away from these popular choices, or tap into the elegant, magical, or traditional quince themes above if they really synced with you as you read about them. Of course, once you've settled on your quinceañera theme, be sure to check out PromGirl's gorgeous selection of quince gowns to find the perfect match!
Looking for more answers to all of your quinceañera questions? Head back to PromGirl's Quinceañera Guide to check out all of the FAQs and topics available.