School Dance Prep: How to Match a Homecoming Date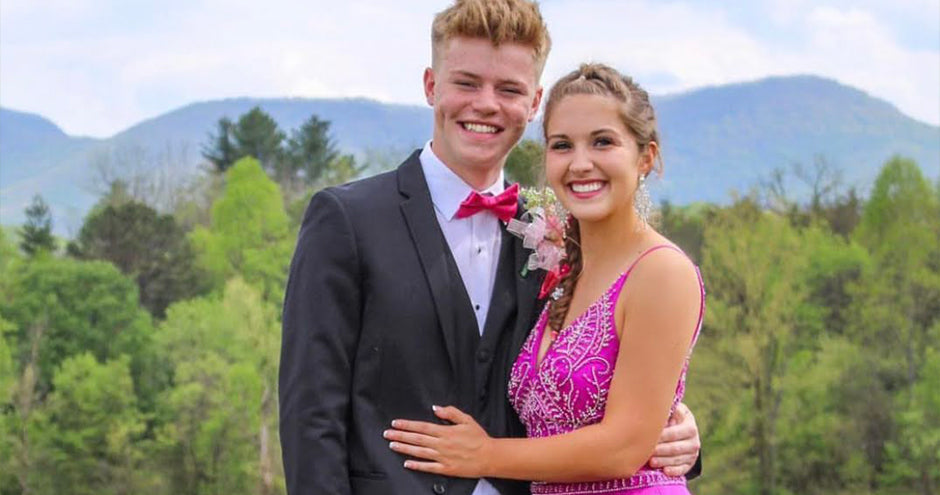 Whether your date to your high school homecoming dance happens to be your significant other, your BFF, or your whole group of friends, there are so many fun ways to coordinate your homecoming dress attire! You can match in small, subtle ways that complement each other's looks to show you're attending together, or you can go all out with a matchy-matchy theme from head to toe. Whatever your preference, PromGirl is here to help you learn how to match homecoming outfits stylishly. Here are a few ways to sync your styles for your high school homecoming dance:
Coordinate Accessories: From clutches and jewelry to cufflinks and ties, there are so many ways to match up your looks utilizing accessories! You could even add stylish, colorful belts to both homecoming dresses and suits to coordinate in a fun way.
Match Shoes/Socks: Imagine showing up in matching colorful sneakers! Or maybe the pop of color in your heels can also be seen on your date's socks. Whether you decide to match in style or color (or both!), your fancy feet can show just who you want to be with at your high school homecoming dance!
Coordinate Homecoming Dresses: If you and your date are both wearing homecoming dresses, you could mix and match the style and the color. Maybe you both buy the same dress for the school dance, but in different colors that complement each of you best. Or, you could go for styles that suit each of you but in the same hue.
Show Off Your School Pride: Since homecoming is already all about school spirit, why not come up with matching homecoming outfits that incorporate the school's colors? From head to toe, you both could choose accessories, makeup, and clothes that show off your school pride.
If you're ready to plan matching outfits with your homecoming date (or dates…can't forget your friends!), be sure to check out the
homecoming dresses
at PromGirl. With such variety in styles and colors available, you're sure to find something to suit you and your crew for the hoco dance this year!