How to Save on Homecoming Costs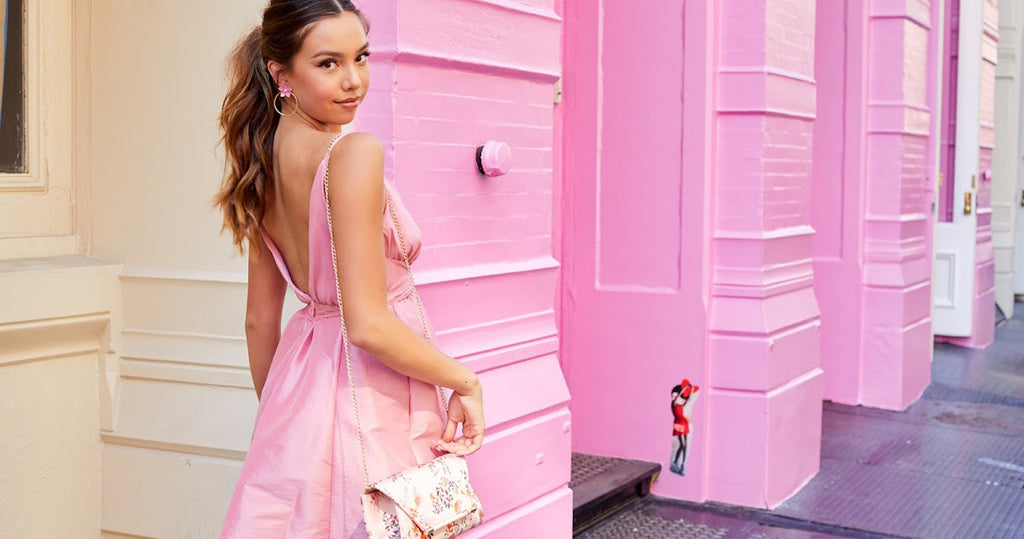 Stressed about how to pay for all things homecoming? Let's fix that! Homecoming costs can add up quickly, but there are multiple ways you can avoid spending too much money for homecoming. From homecoming DIY (do-it-yourself) options to hunting for a cheap hoco dress, there are many ways to rein in your homecoming spending and make sure you don't go over budget. Check out PromGirl's top 7 tips for saving on homecoming dance expenses.
Opt for Homecoming DIY: Brainstorm some things that you (or a friend or family member) could do instead of paying for a professional service. Take pictures with your phone instead of paying for a photographer. You'll have your photos instantly for posting on social media and can trade selfies and group pictures with your friends later (plus, you know your best angles!). When it comes to hair, makeup, and nails, consider taking turns with your friends during a pre-homecoming spa party. Invite your friends over and everyone can help out with each other's face masks, nails, hair, and makeup. You can even ask a friend or sibling who isn't attending the dance to play the part of hair stylist or makeup artist if they have the skills!
Shop Homecoming Dresses by Price: Don't even look at the priciest options out there. If you're shopping online, filter those hoco dresses to start from the lowest price first and work your way up through the options. You can find plenty of beautiful homecoming dresses for under $100. Don't believe us? Check out PromGirl's trendy and affordable hoco dresses! Also, treat your homecoming dress as an investment by choosing a style that you can wear again for another semi-formal event. One dress, one price, multiple chances to shine!
Shop Sales and Sign Up for Deals and Discounts: You don't have to start your dress shopping in the full-price section. Instead, start by looking at the sale section (start with our sale dresses right here on PromGirl!). This way, there's a good chance you'll fall in love with a style at or below what you want to spend on your homecoming dance dress. Remember to sign up for emails from your favorite stores (like PromGirl!) and follow along on social media. You'll be the first to know about any special promo codes or sales.
Wear a Semi-Formal Dress You or a Friend Already Owns: Maybe you already have a gorgeous short dress from last year's prom or a wedding you recently attended. Get more for your money by wearing that dress again. You can also choose to use the same shoes and accessories to save even more money or swap out your accessories to create a new look for homecoming. If you crave a new look, consider hosting a dress and style swap with friends so you can borrow each other's dresses! Invite people from your class, other schools, and other grades to trade dresses, shoes, and accessories. You can make it a fun party by setting up racks for the clothes, playing music, and having treats and beverages available like a high-end store. The items may not be brand new, but they'll be new to you, and everyone goes home with something they love.
Get Thrifty with Makeup and Hair: The beauty budget can rack up quickly and not everyone can work a little homecoming DIY magic (like in our first point). However, with a little creativity, you can feel 100% beautiful at a fraction of the potential price. Hit up a makeup counter at a beauty store like Sephora or the makeup section at department stores. They will typically do your makeup for free to give you a chance to test out the products they offer. Of course, they're hoping you'll buy something! But spending $20 on a foundation you'll use again and again is more economical than spending the same just to have your makeup done once at a salon. You could also go to beauty school. No, we're not expecting you to learn all the tricks of the trade, but if you can find a local cosmetology school, chances are you can get a homecoming-worthy updo or makeover at a deep discount. The students get to practice their craft, and you get a great deal. Win-win!
Keep Transportation Simple: Homecoming is usually a semi-formal or semi-casual dance, so when it comes to transportation, go casual and save the limo for prom. Cut homecoming costs by carpooling with friends or asking a family member for a ride.
Have an After Party at Home: Be sure to make room in your budget for after hoco fun too! Keep costs low with simple, fun activities like a sleepover or a bonfire with friends (at your home or theirs).
However you choose to save on those homecoming costs, you can enjoy a carefree night of fun at the homecoming dance when you stick to your budget.