All You Need to Know About Winter Formal Dance Dresses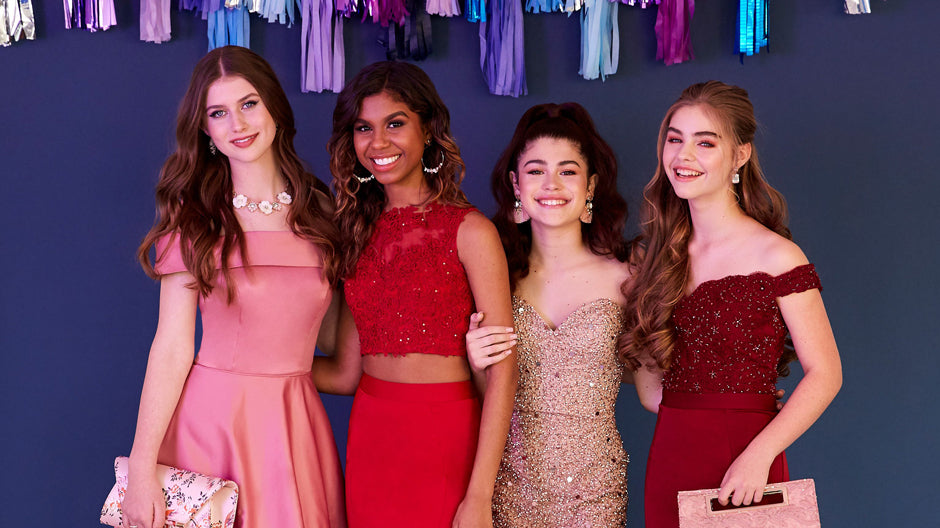 So you're all psyched up for your winter formal dance, but when it comes to your dress, you have no clue what to wear? Fear not! We've got tips on all you need to know about picking the best winter formal dress for your school dance. To simplify the process of selecting a dress for winter formal, you'll want to focus on three things: how fancy it is, the length, and how well it will hold up to the frigid temperatures that are typical for that time of year. Check out the answers to the three commonly asked questions below so you'll know exactly how to dress for any school dances you'll be attending this winter.
How Fancy Does a Winter Formal Dress Need to Be?
When you're dressing for a winter formal dance, think simplified prom. While you won't need all the extras like flowers, limos, and professional photos, your winter school dance dress will need to be just as formal as a prom gown. There are lots of dress designs that make a dress look and feel fancy. Here are a few to consider:
Glamorous sparkle is often the first thing that comes to mind. Whether you love sequins, elaborate beading, glitter, or metallic fabrics, all of those shimmering options can elevate your long or short dress to a fancy school dance dress. The winter vibes are strong when you can sparkle like freshly fallen snow or the holiday lights, so check out PromGirl's sequin dresses or metallic and glitter dresses if you want to channel this vibe for your dance!
Luxurious fabrics, like soft velvet, smooth and shining satin, or delicate lace embroidery, are seasonal favorites that give winter formal dance dresses a fancy edge. A sheer overlay embellished by lace or metallic designs can also add a dash of sophistication to your dress for winter formal.
Lace or Embroidery offers a classic elegance that never goes out of fashion. Embroidered details or lace overlays could accent the bodice or adorn the whole gown. The timeless charm of these delicate details often rates lace or embroidered styles as some of the best winter formal dresses each season. You can check out classy lace dresses or embroidered dresses here.
Should I Wear a Long or Short Winter Formal Dress?
In "short," you can totally choose your preferred length, as long as the dress is formal enough. Ultimately, the length is less important than the elegance of your winter formal dress. The easiest way to keep it formal is to pick a long winter formal dress, but if you do go short, make sure it's a fancy short formal dress. Avoid casual styles like sundresses and maxis. Ready to shop for a traditional long dress? Check out these winter formal dresses. Prefer a gorgeous short formal dress for your winter dance? Take a look at these posh little dresses.
How Can I Keep Warm in a Dress for Winter Formal?
Of course, if you need a school dance dress in winter, you'll want to consider warmth when you shop! Go for formal dresses with warm design features, such as sleeves or heavy fabrics, to keep cozy both in and out of the venue. If you typically run warm or just prefer a sleeveless or strapless style, removable layers are key. Get yourself a fancy shawl, sweater, or scarf that you can easily take off if it gets too warm at the dance itself.
When your school decides to hold a winter dance with a formal dress code, it's time to glam up! Whether you go for a long or short winter formal dress, you'll want your pick to be fancy and warm for the big dance. Now that you know all you need to know about winter formal dance dresses, have fun dressing up for your special occasion!