Make a Statement in a Caged-Back Prom Dress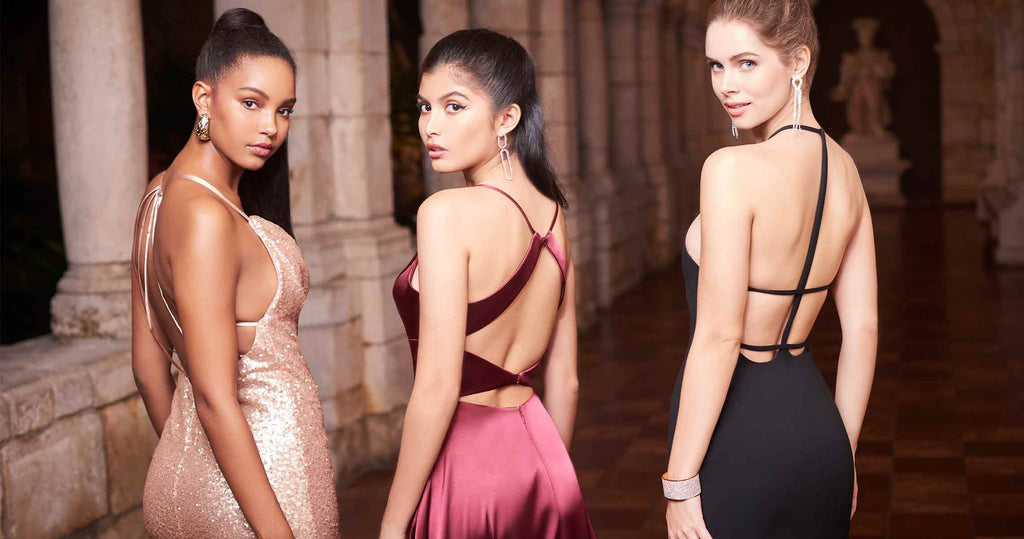 Make a statement in a caged-back prom dress that will captivate like no other style. An instant wow factor, caged backs have horizontal and vertical straps that intersect to resemble a cage design that crosses over the open back. Why go for a prom dress with a caged back? Here are four reasons why a caged-back dress is a bold choice for prom:
Caged-Back Prom Dresses . . .
1. Command Attention!
Wearing prom dresses with caged backs is a stunning way to be the center of attention. Slipping into a caged-back dress means that every twirl on the dance floor will leave a lasting impression. Nothing says "look at me" quite like a mesmerizing caged-back design.
2. Are Fashion-Forward.
If you consider yourself on top of the style trends, then fashion-forward caged-back prom dresses are ideal for you. With Hollywood celebrities already flaunting this look on the red carpet, why not make this style your own to show off your cutting-edge fashion smarts? An exciting caged-back prom dress is a modern style that will have you looking daring and sexy from every angle.
3. Flatter Most Body Types.
Caged-back dresses for prom can be flattering on most body types. Wearing a prom dress with a caged back is a bold trend that looks stylish on girls whether they are tall and slender, short and curvy, or somewhere in between. Go braless or add support with built-in bra cups or specialized bra styles made for backless and strappy-back dresses. As long as you feel comfortable, your confidence will shine through for a flattering effect in your sultry caged-back prom dress.
4. Can Be Toned Up or Down.
With so many style options to choose from, it's best to know how to wear a caged-back prom dress to achieve your desired look. From super daring to chic and modest, the design possibilities feel endless. For the boldest style, go for a prom dress with a strappy caged design that starts at the shoulders and ends at the waistline. If you prefer more coverage, pick one with a caged-style cut out in the center back or the top of the dress. You can also add a jacket or a wrap to tone down the look while enhancing your style with layers. Tweak the WOW factor of your strappy-back dress with ease for a look that's comfortable, sassy, and all you.
No doubt about it, flirty caged-back prom dresses are major showstoppers! Now that you're super psyched about this bold look, you may be wondering how to pick a caged-back prom dress that's just right for you. Explore PromGirl's selection of statement-back dresses, and it will be a snap for you to find the dress of your dreams. Then you can channel your inner celebrity and get ready for the compliments when you arrive in a caged-back prom dress to your formal event.