9 Creative Ways to Use Your Prom Dress After Prom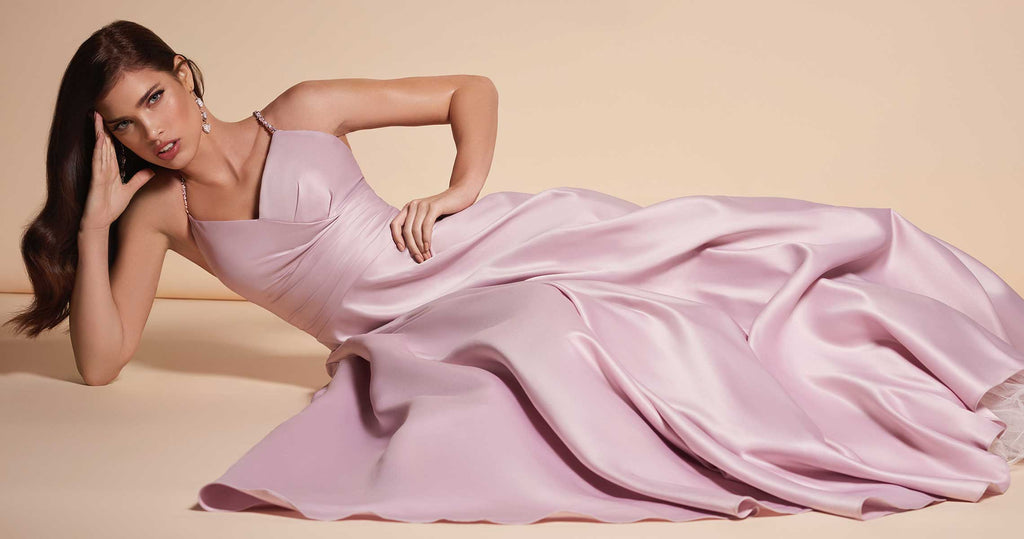 Your prom dress doesn't have to be for one night only.
When prom night is over, you'll have a ton of photos to scroll through, some great memories, and your prom dress! After putting so much thought into choosing your prom dress, it probably won't feel right to see it just sitting in the corner of your closet. Luckily, there are plenty of creative things you can do with prom dresses after prom to give them a second life. Check out a few of PromGirl's favorite ideas below!
1. Have it shortened.
Unless you walk a lot of red carpets, long formal dresses aren't exactly a wardrobe staple you'll need to pull out again and again. If you had a floor-length dress for prom night, visit a tailor to talk about having it shortened. Chances are, a shorter hemline will be rewearble at many semi-formal events you attend after prom. If you love the bodice and color, this is a great way to rewear your prom dress without it looking like you're doing so.
2. Change the neckline or sleeves.
Looking for other ideas for how to rewear your prom dress without it being too obvious? Change it up and create a new look by altering the neckline or sleeves. Again, a tailor can help with some ideas and talk you through what's possible. To get your creative juices flowing, imagine: making a dress with straps strapless, adding cap sleeves to a sweetheart neckline, or turning a high-neck dress into a v-neck.
3. Give it a new color.
If your prom dress was a light color, you may be able to use fabric dye to give it a complete makeover. This is a project you could attempt to do yourself with a visit to the craft store. Just make sure to read instructions carefully so you don't accidentally dye any of your other clothes at the same time! With a brand new color, you can rewear that prom dress as if it were new.
4. Just wear it again.
Maybe you're not all that worried about wearing the same dress multiple times. And you shouldn't be! (Even the ladies of the British royal family do it.) You're likely to have other formal events come up after prom -- whether it's another dance, an awards gala, or a banquet. To be honest, you'll probably be the only person who realizes you're re-wearing your prom dress. If you do decide to go that route, you can also freshen it up with different accessories, shoes, and hairstyle.
5. Swap with friends.
You were probably already loving a few of your friends' prom night looks (and they were obsessed with yours). So why not make a trade? Host a prom dress swap party complete with hanging racks for the dresses, music, and snacks. Don't forget to make a "changing room" with a full-length mirror. You can ask everyone to invite at least one more person, and maybe even girls you all know from other schools, so you get a bigger group. Everyone goes home with a dress that's new to them!
6. Pass it down.
Do you have a younger sibling, cousin, or friend? Ask if they'd be interested in you saving your formal dresses for them. You may even have extended family that live in a different state. In other words, no one will ever have to know! And a bonus for you: You get to have fun seeing how someone else styled your prom dress.
7. Donate to a charity.
Pay forward the happiness your prom dress gave you by donating the gown to charity. There are several out there that provide dresses for prom to girls who may otherwise not be able to afford them. Just do a search for prom dress donations in your city to find somewhere close where you can drop off your dress. You could even go a step further and host a prom dress drive at your school. Take charge of collecting prom dresses after prom from everyone and delivering them to the charity. A lucky girl will get to feel as beautiful as you did on prom night, all thanks to your generosity.
8. Sell it.
Could you use a little extra cash? You can also go the route of selling your prom dress. You should be able to find local consignment stores where you can take your dress in person, or you can try an app like Poshmark where you sell online, but also have to ship. Remember, most places that allow you to resell formal dresses or other clothes require them to be clean and in good condition. So just make sure you check your dress over for marks or stains before selling.
9. Have a "trash the dress" photoshoot.
Speaking of stains, here's something fun you and your friends can do with your prom dresses after prom — trash them! Just be sure to document the entire thing. If you're all headed off in different directions next year, a prom dress photoshoot could be a fun way to capture some memories. It's pretty simple too. Everyone wears their prom dresses for a crazy, fun event like jumping into a pool, splashing a wall and one another with paint, or letting off colorful powder bombs.
Now there's no need for you and your friends to wonder about what to do with those prom dresses after prom because you've got 9 different ideas to consider! Whether you want to preserve those prom night memories or give others a chance to create their own, repurposing your formal dress after prom is a total cinch.