Prom in Bloom: 5 Tips for Wearing Floral Prom Dresses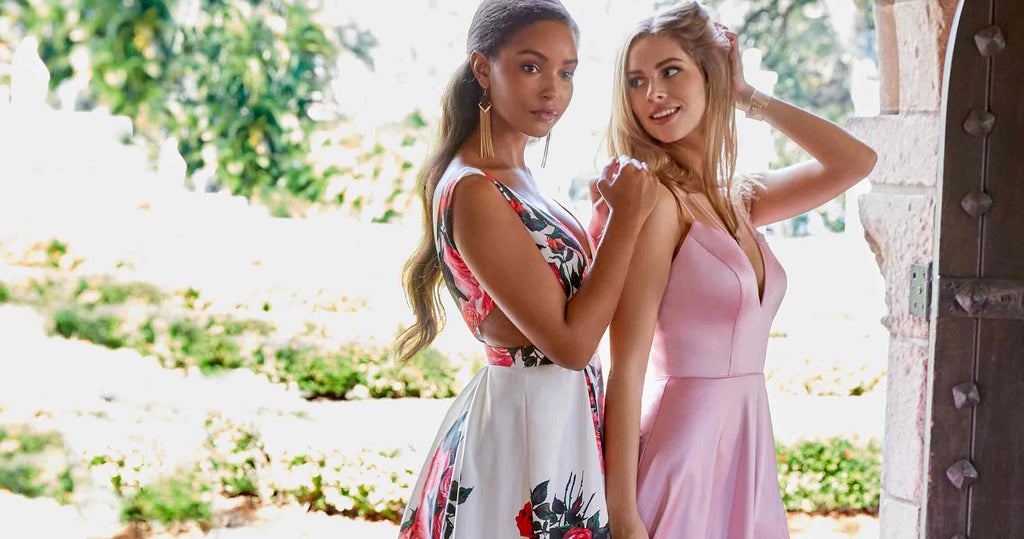 Are you dreaming of beautiful floral prints on your prom dress this year? Or, does the idea of a busy print make you think twice? Maybe, you're just not sure if you can wear a floral dress to prom. Have no fear! If you're looking to rock a bloomtastic floral-print dress, here are 5 tips to keep you petal-perfect this prom!
1. Pick Your Pattern:
Take a minute to reflect on what your perfect prom dress looks like. Maybe you imagine green vines or red roses climbing up the floor-length skirt and wrapping around the bodice of your dress. Perhaps you picture a floral-print prom dress covered in overlapping sunflowers that look like gorgeous blooms waving in a breeze each time you sway. Whatever you envision, finding the right floral pattern is all about what you love! Floral designs are abundant, and they truly come in so many different shapes, sizes, and colors that you should have no trouble finding a flattering look. Some floral-print dresses have big, gorgeous, colorful patterns, while other dresses have smaller, adorable, monochromatic designs. So take the time to explore your options. You're sure to find your fave!
2. Choose Bold Blooms:
If you're looking to grab and hold everyone's attention when you walk into prom this year, go for bold. Rich, vibrant hues and large prints will have you standing out from the crowd. Aiming to be even more daring? Don't be scared to mix a floral pattern with a different type of print, such as stripes or small polka dots. Contrasting patterns really pull out the flowers and give your look some added trend appeal.
3. Go for Half:
Maybe an allover floral motif isn't your thing, but you still want that eye-catching pop of color? Consider going halfsies — half solid, half print! Opt for a style that has the blossoms you love on the bottom or delicate flowers on the top. Going for the half-and-half look let's you have all the fun of a floral print without feeling like you're going overboard.
4. Consider Your Frame:
Florals look fab on just about about any shape or size. It really just comes down to how to make this trend work for you. For petite body frames, try to stick to smaller floral prints to keep the design from becoming too overwhelming for your frame. If you're a curvier girl, look for prints on flattering a-line dresses. Whatever your shape or size, wearing a floral dress to prom is totally you.
5. Accessorize:
If you've already decided to wear a floral-print dress to prom, you need to consider accessories. The beauty of wearing a floral prom dress is that you really don't need a lot of extra jewelry. The old adage, "less is more," is absolutely true when it comes to prom dresses in floral prints. Statement jewelry could clash or be too distracting for such a gorgeous dress. Go for jewelry pieces that are simple, classic, and subtle when wearing a print prom dress. A sparkling pair of studs or drop earrings are a nice accent for your print dress. Add a small pendant necklace, along with a thin bracelet, and your bloom-worthy prom look is complete.
Whether you're looking to show off a garden of flowers or keep it to a single stem on your prom dress this year, there are dozens of styles that will help you achieve your dream look. Just keep our 5 tips for wearing floral prom dresses in mind, and you're sure to find the dress for you.