Top 4 Statement-Back Dress Styles for Prom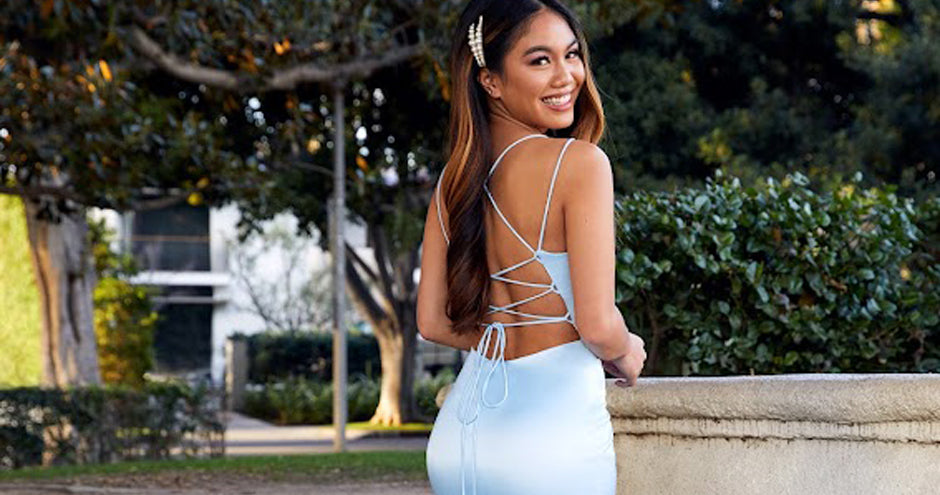 Statement-back prom dresses are perfect for wowing the crowd from all angles! These days, there are so many eye-catching design options that enhance the back of prom gowns. From baring all in a backless dress to customizing your fit in an adjustable corset-back style, statement-back dresses are made to WOW. If you're ready to turn heads as you walk by, then check out the top four styles below to help you find your favorite.
1. Open-Back or Backless Dresses - The OG statement back is definitely a dramatic backless look. Slightly less dramatic, but still awe-inspiring, is the open-back dress, which usually bares less of the back than a full-on backless style. Whichever you choose, you'll be making a statement with every turn you make.
2. Strappy-Back or Corset Dresses - The strappy styling possibilities are endless! These styles might have doubled straps that loosely frame the back or create a geometric design as they overlap. If the straps cross over each other tightly, they could even create a corset closure. A major perk to the corset prom dress is that it's adjustable for a snug, customizable fit. From intricate criss-crossing patterns to tightly-wrapped corset styles, strappy-back dresses are a fun way to make a statement!
3. Dresses with Back Cut Outs - Back cut outs could be as tiny as little slits that create small peek-a-boo designs or large enough to mimic an open-back style. Whether the cut outs create an intricate pattern or a bold and simple look, these trendy designs are popular picks for prom.
4. Illusion-Back Gowns - So you want to wear a trendy statement-back dress for prom this year, but the school dress code says NO to backless styles… Why not go for an illusion-back prom dress? With your back covered in gorgeous sheer lace or simple and classy illusion mesh, you can easily follow the school rules AND keep it chic at prom.
Show up to prom in one of the latest fashions when you slip into a statement-back dress. With so many stylish designs available, there's an option for every girl when it comes to dresses with statement backs. Explore the possibilities in this collection of dramatic-back gowns at PromGirl to find your favorite.