5 Tips for Wearing Sequin and Metallic Dresses at Prom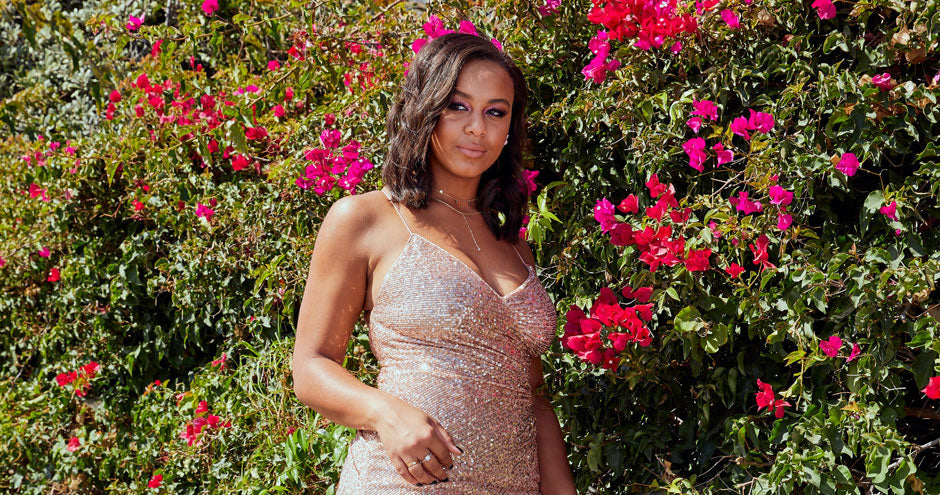 When it comes to wearing metallic or sequin prom dresses, you want to make sure that your showstopper gown stays in the spotlight. So how do you choose and accessorize your sparkly dress for prom? Check out the 5 tips below on selecting and styling sequin or metallic dresses.
1. Choose Your Glamour Zone. There's no rule that says you can only have a set amount of shimmer on your gown, so decide how much you want to shine! Is just a dash of glitz with a sequined bodice or metallic glitter fabric your thing? Or do you want sequins from head to toe? Wherever you fall on the sparkle spectrum, there's a sequin or metallic dress with just the right amount of glimmer for you!
2. Keep Accessories Basic. If you've picked a sparkly dress for prom, let the dress speak for itself! Too many sparkling accessories will distract others from your metallic or sequin dress. Simple pearl jewelry is a gorgeous complement that adds an elegant touch. Metallic jewelry is totally fine with a sequin dress, but make sure it's not sequined too. If you really want to wear additional sparkle, consider picking ONE sparkly accessory that complements your dress. A good way to do this is by choosing an item that never "meets" your gown. For example, a pair of dazzling earrings would still work well since they do not touch the dress.
3. Mix & Match Colors. It's so much fun to pair colorful accessories with a metallic or sequin dress for a vivid visual pop! Imagine a gold metallic dress with a rich ruby red shawl or a silver sequin gown with a bright blue clutch and heels. A classic black sequin dress pairs beautifully with emerald green shoes and jewelry. There are so many possibilities to explore, so have fun matching your sequin or metallic formal dress with a vibrant hue!
4. Use Subtle Makeup. When it comes to makeup that suits your metallic or sequin dress, think neutral. For eye shadow, the colors tan, brown, black, or gray can enhance without clashing with your gorgeous gown. A lightly tinted lip gloss or lipstick in a soft pink or nude hue works beautifully. If you can't leave the house without your bronzer, remember to apply just a little.
5. Go for Simple Hair Styling. To keep all eyes on your stunning sequin or metallic dress, skip the intricate hairstyles with flashy accessories and go for classic and simple stylings. Short hair could be straightened or given a few waves for volume. For long hair, consider a basic up-do to avoid hair snags in the sequins.
Now that you're in the know about styling metallic and sequin dresses, you're totally ready to shop! PromGirl has a wide selection of glitter and metallic formal dresses, as well as sequin prom dresses. Find a sparkly dress you love for prom and have fun accessorizing for a glamorous look your friends won't soon forget!