Top 3 Differences Between Prom and Homecoming Dresses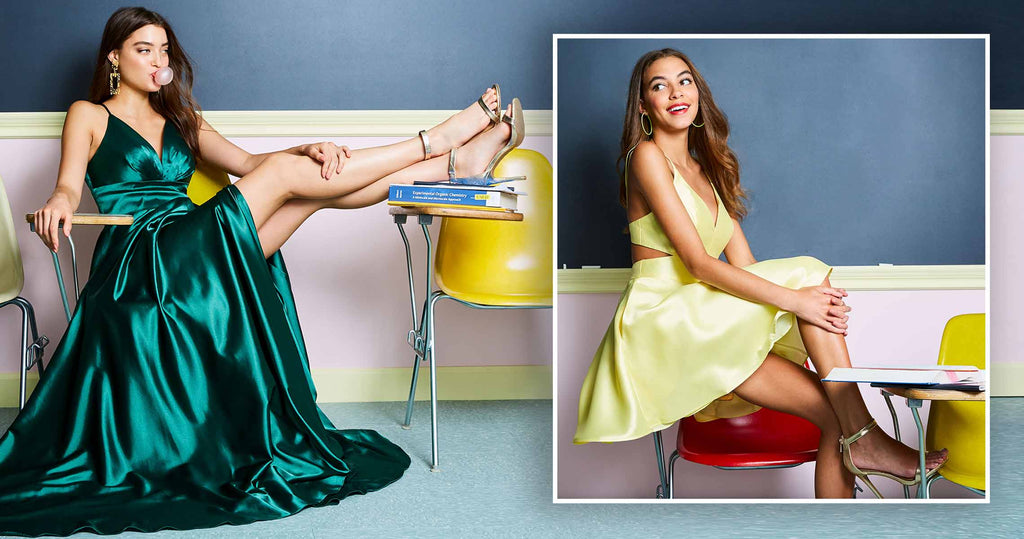 What to keep in mind as you shop for the two biggest parties of the year!
Back-to-school season is upon us, and as you curate your looks for the new school year, there are two important occasions that will also require some special attention: homecoming and prom! Read on for the differences between homecoming and prom dresses, and what you should keep in mind to rock your look for the two biggest parties of the year.
1. Homecoming and prom are held at two different times of the year
Homecoming is held early in the school year, and typically centers around a major sporting event where both current students and alumni can revel in school spirit. The homecoming dance is open to all grades in high school and is considered a semi-formal event. Prom, on the other hand, is held in the spring, and is somewhat of a send-off to graduating seniors and is usually only open to upper-classmen (juniors and seniors). Chances are good, too, that your prom will take place someplace other than your high school gym–setting the tone for a much more formal evening than homecoming.
2. Your HOCO dress should be semi-formal whereas your prom dress will be formal
If you're trying to understand what is a hoco dress, start with the formality. Because the homecoming dance is more of a semi-formal occasion, knee-length (or shorter) dresses are totally acceptable and the norm. HOCO dress styles can range from fitted cocktail dresses to full, layered skirts or even two-piece ensembles in a variety of colors. Feel free to wear your hair down and go for a pair of low heels, flats or even cute sneakers!
In that case, then what is a prom dress? Prom, on the other hand, is all about the long-length dresses. Think prom dresses that skim the floor made of fabrics like silk, satin and organza. Color-wise, you might want to go for something a bit more sophisticated and classic, such as black, navy red, soft pink or even a metallic color. And while it's more than okay to wear your hair down, you should also expect to see a lot of updos and higher-end accessories like high heels and sparkly handbags.
3. You'll probably spend more on your prom dress than your homecoming dress
A longer dress with a more formal look usually will cost more than the semi-formal styles for homecoming. In fact, between the dress, accessories and your hair and makeup (if you're having it done professionally), you can expect to pay 3-4x more on your prom style than your homecoming outfit.
When you're ready to shop for your prom and homecoming dance styles, be sure to check out PromGirl's latest fashions! There are trendy short homecoming dresses and stunning long prom dresses ready for you to explore.