This or That: V-Neck Dresses vs. One-Shoulder Dresses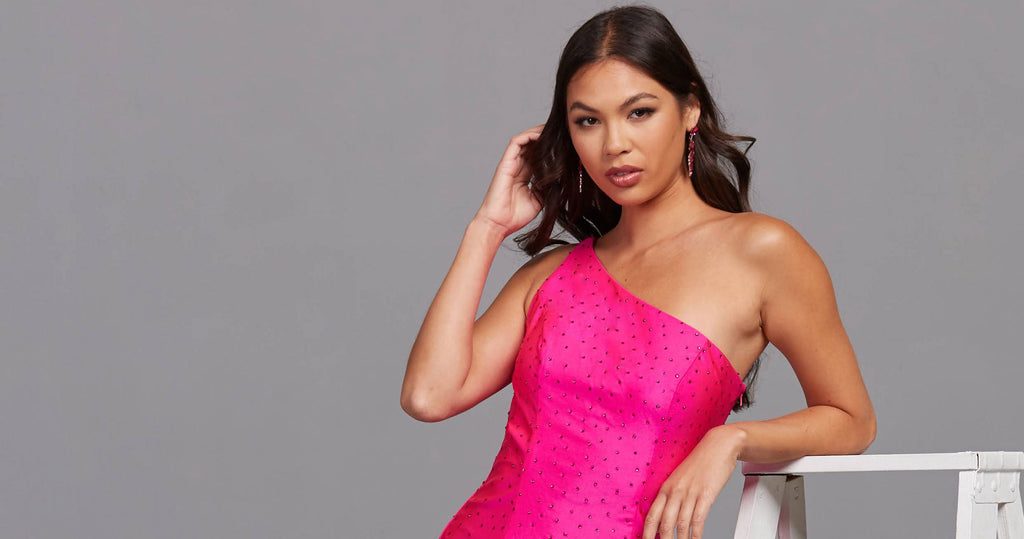 At any fancy celebration, you're sure to find lots of gorgeous dresses with v-necklines or one-shoulder necklines! But which style deserves your unwavering support: Team V-Neck or Team One-Shoulder? It can be a tough call to make since both v-neck dresses and one-shoulder dresses have their own charms and advantages. Keep reading to find out why you should wear a v-neck or one-shoulder dress, then you can choose your favorite to rep!
THIS: V-Neck Dress Perks
Visually Slimming: The shape of the v-neckline tends to draw the eyes in a vertical direction, which can make you appear tall and lean. This visual trick makes v-neck dresses a favorite for many body types!
Variety: Even though v-neck dresses have a set shape to the neckline, the depth and width of it can vary. Your v-neck dress can have a modest, subtle v-shape, or the neckline can dramatically plunge to the waistline for a bold, sultry look.
Breathability: Since v-necklines typically dip below the collar bone, you can breathe easily! There's no restrictive fabric to worry about high on the shoulders or neck with a v-neck dress.
THAT: One-Shoulder Dress Perks
Minimalist: The asymmetrical design of one-shoulder dresses means minimal jewelry is needed to complete your look. Keeping your jewelry simple saves you money and keeps the focus on your beautiful dress.
Classic and Trending: Reminiscent of Old Hollywood designs, the one-shoulder dress is a timeless style. Add in the current popularity of the one-shoulder look, and you've got the perfect combo of classy and chic.
Supportive: A one-shoulder dress is like a half-way mark between a strapless design and a strappy style. While one shoulder totally gives off a strapless vibe, the other shoulder has the extra support of a single strap or sleeve.
Now that you've gotten the rundown on the perks, are you Team V-Neck or Team One-Shoulder? If you are a diehard fan of the v-shape, be sure to shop PromGirl's
v-neck prom and homecoming dresses
. Find yourself cheering for the asymmetrical look? Here's PromGirl's collection of
one-shoulder prom and homecoming dresses
to explore. Have both teams stolen your heart? Then there's no need to choose a favorite! You can always wear one neckline for homecoming and rock the other for prom!