5 Tips for Picking the Most Flattering Party Dress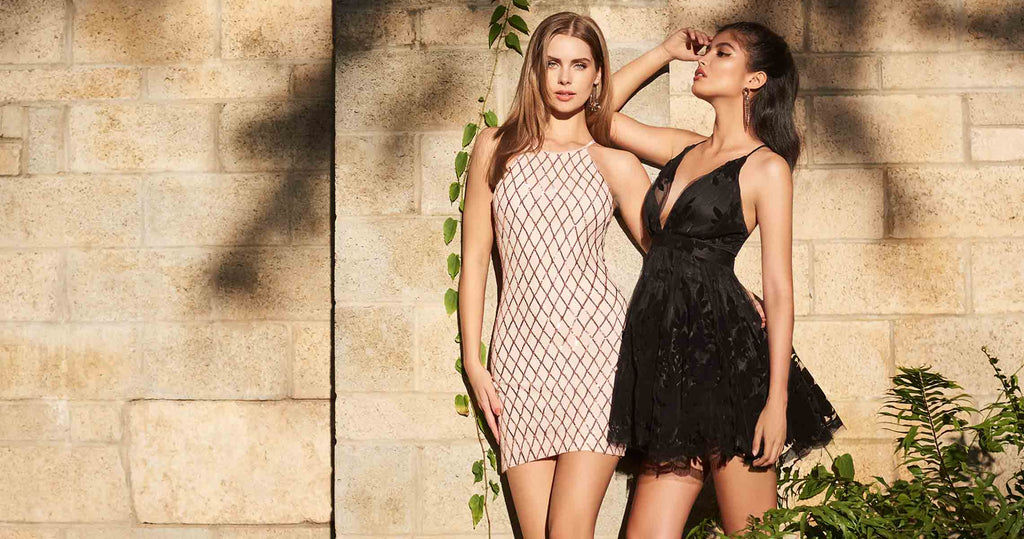 We all come in unique shapes and sizes. Knowing your body type means you can confidently choose a party dress that flatters your figure. Women generally fall into one (or two) of six figure types: apple-shaped, slender, pear-shaped, hourglass, petite, or busty. Not sure which applies to you? Learn more about identifying your body type. Whether you are one body type or a blend of two or more, finding a flattering party dress is simple with these 5 tips.
1. Find the Neckline that Suits You:
From slenderizing to curve-enhancing, a neckline is a surefire way to complement your body. V-neck party dresses draw the eyes down to the waistline, creating a visually slimming effect. Prefer a curvy look at the bustline? Explore sweetheart or scoop-neck party dresses for a rounded shape at the top of the bodice. Bring attention to your upper body by rocking short party dresses with bateau, high, or off-the-shoulder necklines. With a flounce, popover, or ruffle, the top of your party dress is sure to captivate!
2. Flatter Your Waistline:
Whether you want to flaunt your waistline or camouflage your midriff, you'll want to pick the waistline cut that flatters your figure best. If you are looking to de-emphasize your waistline, try an empire-waist party dress that cinches in below the bustline and flares out in an a-line skirt. Have a small waist? Show off a curvy figure with embellishments or a belt at the natural waistline for added definition. You can even curvify your frame by slipping into a fun and flirty fit-and-flare party dress with a clearly-defined natural waist and full skirt. A dress with a dropped-waist makes hips look instantly smaller, while a shift dress, having no clear waistline, camouflages the midriff completely.
3. Focus On Your Best Features:
Think about your favorite features that you want to highlight in a party dress, as well as the features you'd prefer to conceal. Looking to add volume to your bustline? Halter-style dresses and off-the-shoulder party dresses with ruffles can help to amp up your bust. To create the illusion of curves, try dresses that clearly define the natural waistline while adding flare to the hips with full skirts, such as a babydoll-style party dress. Want to balance out curvy hips instead? You may want to skip wild patterns, flashy beading, and pockets on the skirt and opt for styles with dramatic necklines that draw the eyes upward.
4. Know Your Fabrics:
Different fabrics may affect the look and fit of your party dress. Try a party dress with layers of cotton, linen, silk, or satin if you want to add volume to your shape. You can downplay your curves by shying away from satin and, instead, lean toward fabrics that drape like chiffon, cotton, and silk. Stretchy fabrics, like jersey and spandex, are perfect for providing comfort in plus-size party dresses.
5. Check Your Comfort Level:
Maybe you've found a party dress with the perfect neckline, waist, style, and fabric for your body type, but do you feel pretty, confident, and comfortable in it? If the answer is a resounding "YES," then you've got a winner! Even if you know the party dress looks good, it may not feel good. Why compromise your comfort for style? Finding the ideal party dress for your body type that feels good, looks good, and is comfortable is like hitting the trifecta of style.
Be the life of the party in your dream dress. From petite to plus-size party dresses, it's easy to find a style that flatters your figure when you follow these 5 tips for choosing a party dress.