7 Reasons To Wear A Jumpsuit Or Romper For Homecoming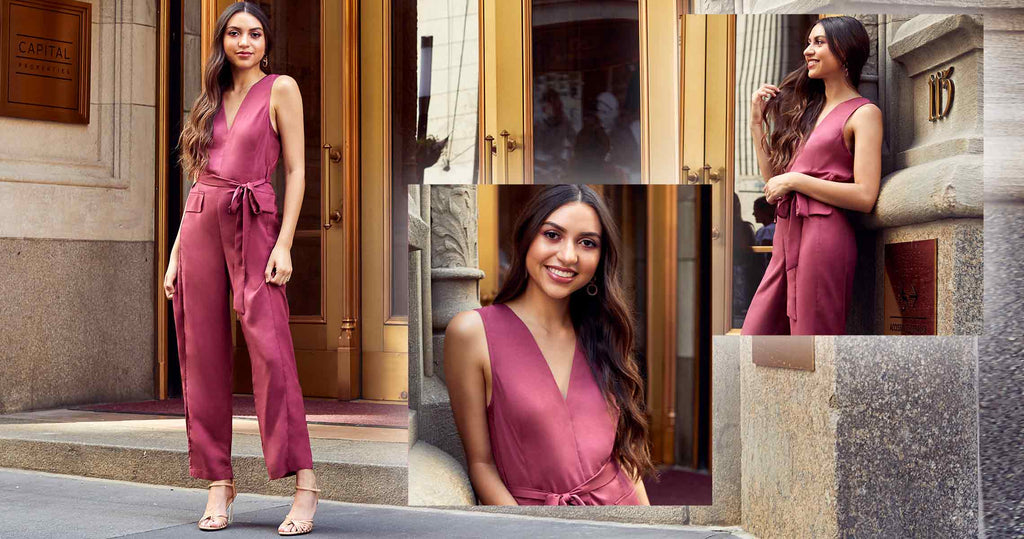 Ditch the homecoming dresses and stand out!
If you've been shopping and shopping for homecoming dresses and haven't found a single thing that catches your eye, you may be wondering… Can I wear a romper to homecoming instead? And the answer is 100% yes! Rompers and jumpsuit styles are not only one of PromGirl's top outside-of-the-box homecoming trends, but they also come with a bunch of benefits that you won't get from dresses. Check out our 7 reasons you should wear a jumpsuit or romper for homecoming, then start expanding your homecoming style search ASAP.
1. You'll Be More Comfortable on the Dance Floor.
More than anything, homecoming should be about having fun with your friends! And that means being able to actually dance. Too often, homecoming dresses that look cute in the dressing room don't perform well IRL. (Just one wrong move, and you're in wardrobe malfunction territory.) Jumpsuits and rompers don't have the same problems. With pants or shorts on the dance floor, you can look cute and dance like no one is watching.
2. You'll Stand Out in a Sea of Homecoming Gowns.
After a while, homecoming dresses can often start to look identical. The embellishments, colors, and shapes blur together. You may even see several of the exact same dress if you're at a big school! And it makes sense — a lot of us have the same favorite stores (PromGirl included, we hope!). So if everyone is shopping at the same places, how can you stand out? Be brave enough to be different and wear a jumpsuit or romper for homecoming instead of a dress. This simple choice will be one most of your classmates won't think to do. You'll be stylish and unique!
3. You'll Fit the Dress Code, Without Being Overdressed.
Homecoming isn't the fanciest of your school dances, so you want to be careful that you're not overdoing your formal look (save the ball gown for prom!). So when people ask us, can I wear a jumpsuit or romper for homecoming? The answer is always, of course! It's a great way to dress down your look while still fitting that semi-formal dress code.
4. You Can Wear a Jumpsuit or Romper Again.
If you've been to a few homecoming or other school dances, you may be building a closet full of formal and semi-formal party dresses that you're not sure you'll ever wear again. That's not the case with homecoming jumpsuits or rompers! The style is easily dressed up or down, so you can wear it again long after homecoming is over. It's all about how you accessorize—statement jewelry and heels for the dance, sandals and a ponytail for a casual look anytime.
5. You'll Have the Option to Go Short or Long.
Homecoming weather can vary. If you live somewhere with seasons, it might be pretty cold come time for the dance. But if you're in a warmer climate, it could still be sunny. Jumpsuits and rompers for homecoming allow you to pick the style that best suits your weather… and style! Short rompers with frilly, fun details are great for girls who don't go for the floor-length look. They're also a good option if you're on the shorter side and don't want to get a long dress tailored. Long jumpsuits have a more formal touch, but with the benefits and comfort of pants.
6. You'll Get the Look of a Dress with the Functionality of Pants.
Speaking of comfort, what's more comfortable than a jumpsuit or romper? It's a style you probably reach for again and again whether you're headed to class, out with friends, or just lounging. That's because it's cute and on trend, but super functional and easy to wear. Plus, if you're feeling iffy about the idea of wearing pants or shorts to homecoming, there are plenty of options out there with wide leg cuts or flowy embellishments that create the illusion of being semi-formal party dresses.
7. You'll Be Ready to Rock After-Homecoming Parties.
The functionality of a romper or jumpsuit translates really well for your after-homecoming plans. While most of your friends will have to pack a pair of pants or shorts to change into after the dance, you'll just need to refresh your accessories! The same look works just as well at homecoming as it does at a restaurant or friend's house. Pack a pair of flat sandals to swap out your heels, and done!
Now that you know all the perks to wearing a jumpsuit or romper for homecoming, it's time to get one of these trendy styles for yourself! Rock homecoming in stylish comfort with a jumpsuit or romper this year.