How to Dress for Graduation: From Grad to Guest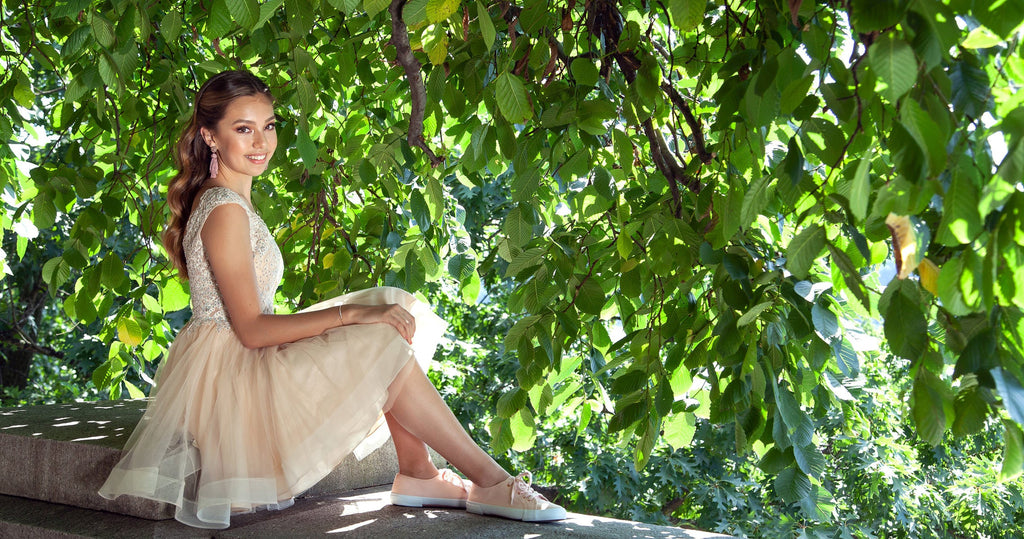 Now that graduation day is just around the corner, it's time to prep a celebratory outfit! Whether you're the graduate ready to walk the stage or a guest ready to honor the grad's accomplishments, you'll want the best dress for the graduation ceremony. When it comes to choosing the best graduation dresses, there are a few things for grads and guests to keep in mind. Read on for some top-notch tips on choosing dresses for graduation ceremonies.
How to Choose the Best Graduation Dress for a Ceremony
If You're the Grad: Choosing a dress for your graduation ceremony is all about making sure the style works well with your cap and gown attire. You'll want to consider three things: the length, the color, and the comfort of your grad dress.
Length: Graduation dresses should be shorter than the academic gowns worn for the ceremony. The focus during the event should be on you in your celebratory cap and gown as you're honored for your accomplishments, not on your hemline for a sneak peek at your grad dress.
Color: Since many graduation gowns are made from a thin material, you'll want your dress color to match or be lighter than the academic gown. If your school chooses the traditional white cap and gown, then you'll be in the market for a classic white graduation dress! If your school goes for another cap and gown color (maybe one of the school's colors), then you'll have more flexibility in choosing a color or even a beautiful print, so long as you can't see the print through the academic gown. Of course, you might not have a choice at all if your school tells you what color graduation dress you'll need to wear under your academic gown so be sure to check before buying.
Comfort: Remember that your graduation dress will be hidden under your gown for the majority of the day, so go for comfort and simplicity in style. You'll want your grad dress to move smoothly with you and the gown. The fabric should also keep you cool so you're not sweating under all the layers (and nervous excitement)!
If You're the Guest: Choosing a dress to attend a friend or family member's graduation ceremony is all about making sure you're fancy enough to show your respect and appreciation for the grad without accidentally upstaging him/her. This means you'll need to keep the dress code, the color, and your comfort in mind when choosing a style.
Dress Code: Check the invitation or chat with the graduate to see if there's a dress code for the ceremony. If there's no set dress code to follow, a good rule of thumb is to go for a dress that's classy casual to semi-formal in honor of grad's accomplishments.
Color: Since white is a traditional color for graduates, it's best to avoid little white dresses when you're the guest. If you know that the grad's school has chosen a different color for the cap and gown, then you'll want to skip that hue too! Other than that, you've got free rein to choose your favorite color or print.
Comfort: Since you may be doing a fair amount of walking around the location, as well as sitting a lot during the ceremony, you'll want to make sure the graduation ceremony dress you pick is comfortable enough for both activities. Is the ceremony indoors or outdoors? Knowing this can help you choose a style that is comfortable for the weather or heated/air-conditioned interior. It also helps you plan for any extra layers you might need (rain jacket, sweater, etc)!
Graduation ceremonies are milestone occasions, so grads and guests alike will want to be dressed in the best graduation dresses in honor of such a celebration! For the best grad dresses, be sure to check out PromGirl's assortment for a variety of little white graduation dresses and casual to semi-formal short dresses that are perfect for the ceremony.