Love for Lace: Accessorizing Your Lace Prom Dress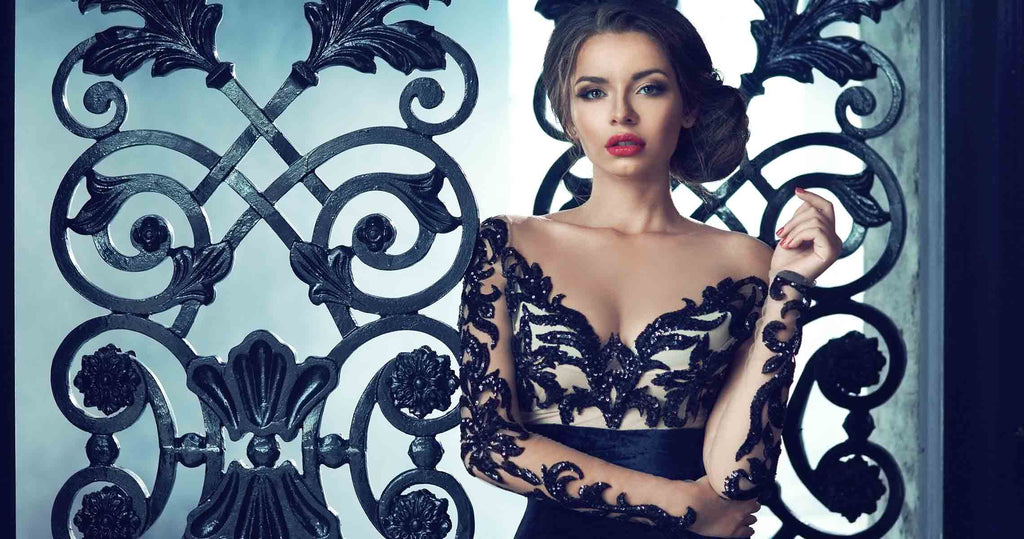 When you've got a stunning lace dress for prom that's a statement-maker in and of itself, how can you accessorize it while keeping all eyes on your gorgeous gown? The answer is keep it simple. With your lace prom dress in the spotlight, simple and complementary accessories can beautifully enhance your look from head to toe. Accessories for lace dresses are endless, so let PromGirl help you trim down your options with the tips below.
What to Wear with Lace Dresses for Prom:
Layers
Chilly weather for prom this year? Combine warmth and style by pairing your lace prom dress with a leather jacket or a blazer in a similar fabric and color. Shawls or fashion scarves in matching lace or knit designs can add a soft, romantic vibe. Easily removed once inside a warm venue, coordinating layers are a chic way to change up your look during prom.
Jewelry
Select jewelry that adds to your style without drawing the eye away from your stunning lace prom dress. To avoid snagging on the lace and pulling out threads, ditch the bracelets, rings, long dangling earrings, or necklaces with clasps, edges, or stones that might get hooked into the lace fabric as you bust a move. Instead, choose one statement piece to complement your look. Typically resting high on the neck (and therefore above that beautiful lace), a string of pearls provides a vintage look. A matching or contrasting velvet or silk neckband is another classic choice.
Purse
To keep it simple, small handbags or clutches work best with lace prom dresses. Remember to check the purse for any features that might snag your beautiful lace gown! A matching or neutral-tone clutch in smooth satin with lace accents can bring your whole look together. Prefer a stylish contrast? Try adding a pop of color with a mini handbag or a faux-leather clutch in a vibrant hue.
Shoes
Keep your feet wrapped in comfort and classy style in a pair of black, white, or nude flats that keep all eyes focused on your dress. If you prefer an alluring style, show off a flash of vibrant color when you kick up your feet in strappy heels in a coordinating hue.
Hats
When it comes to wearing lace dresses for prom, you don't have to stick with traditional, classic accessories! For a trendy look, tie in a hat to your prom hairstyle to "top off" your dress. Go country with a cowboy hat (and don't forget matching boots)! Create a softly romantic look with a feminine straw sun hat and ribbon bow in neutral tones or a matching shade, or be chic with a head wrap, scarf, or headband in complementary colors or a coordinating print.
Since simplicity is key, selectively choose lace prom dress accessories to round out your look. Whether you want to stick with traditional accessories like jewelry, clutches, and prom shoes or you want to explore unique possibilities by playing with layers or tying in a sassy hat to your prom updo, remember to keep your lovely lace prom dress center stage. Now that you know how to accessorize lace dresses for prom, have fun finalizing the details for your one-of-a-kind look!