Top 2019 Color Trends for Homecoming Dresses!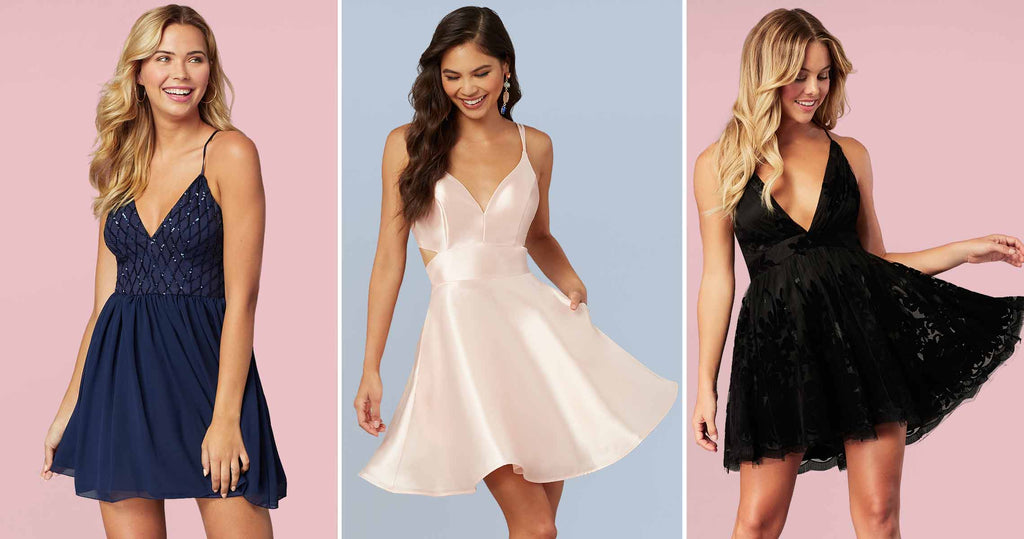 This season's most popular homecoming dress colors.
One of the best parts about shopping for homecoming dresses is picking out a great dress color. Whether you're going for a style that's classic and timeless, or you want something modern and edgy, the color you choose can help you achieve that. So as you go to shop for hoco 2019, first think about the vibe you're going for. Do you want something simple? Playful and fun? Glam? Have that style in mind, and then take a look at the hottest homecoming dress colors for hoco 2019 to find one that's right for you!

>Shop all Homecoming Dresses on PromGirl
Color Trend: Navy Blue Homecoming Dresses
Navy is one of the top colors for homecoming dresses and for good reason: It's a classic hue that you can dress up or down depending on the fabric and embellishments. A short fit-and-flare structured style will look simple yet timeless. Or, go glam with a navy sequins bodice or a navy glitter-knit fabric dress.



Color Trend: Blush & Pink Homecoming Dresses
You don't have to wait until prom to wear a blush or pink dress. Pink homecoming dresses are totally appropriate for hoco! Just be sure that you find a pink shade that complements your skin tone (warmer pinks like Rosewood for warm undertones and icier pink like French pink for cool undertones).



Color Trend: Red Homecoming Dresses
If you really want to stand out, go for one of the boldest of our top 2019 hoco dress colors: red. We love this color on short, structured dresses with V-necks and sweetheart necklines. But if you're looking for something slightly toned down, you could always choose a soft burgundy dress.



Color Trend: Black Homecoming Dresses
A black homecoming dress is an effortless and elegant (not to mention totally on-trend) option. We love black dresses for their versatility too. For example, you'll look glam with a short black dress and sequins on the bodice. Get more of a classic style with a short, structured black dress and a flared skirt. Or, get a playful look with a black dress and lots of fun embellishments like tulle and lace.



Color Trend: Green Homecoming Dresses
Hands-down, one of our favorite colors for hoco is green in a bright jewel tone. Pine green is an unexpected, yet beautiful shade of green that looks amazing on a sheath dress. Or, make a statement (and really pop in this year's hoco photos!) with a bright green or Emerald dress.