6 Reasons to Give in to the Embroidered Dress Trend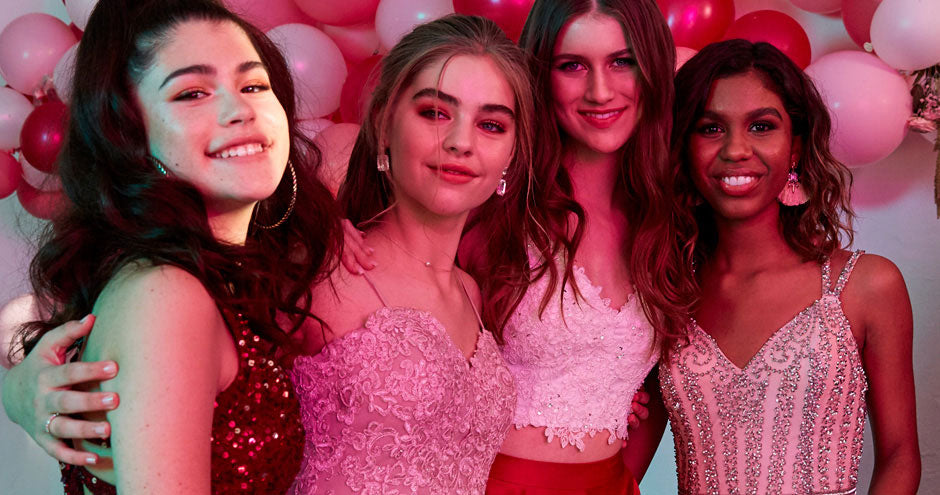 Now that embroidered dresses are predicted to be a top prom dress trend for 2022, it's the perfect time to jump on that embroidery train! Besides being stylishly on-trend for your special event, choosing an embroidered gown offers several perks. Although there are many reasons to wear dresses with embroidery, let's check out the top 6 below.
Embroidery is...
1. Always chic and feminine. Really, what is more feminine than dresses with embroidered lace? Not much! In all seriousness, embroidery is traditionally viewed as delicate and feminine in design. With modern styling over the years, embroidery has moved far beyond dainty doilies. Now stylish geometric and floral embroidered embellishments beautifully enhance dresses for a fresh and sweet appeal.
2. Both classically elegant and stylishly trendy. Embroidery is a classic feature that's naturally elegant. For example, a dress with floral embroidery from top to bottom has a vintage feel reminiscent of Old Hollywood sophistication. However, embroidery can also have a modern vibe. These days, embroidered lace appliques are applied in unique ways that provide trendy, one-of-a-kind designs.
3. Elevating. An otherwise simple style can be enhanced by embroidered designs that draw the eye. With an embellished trim or bodice, an embroidered gown gets a sharp style upgrade.
4. Easily blended with sparkle. No need to give up the glamour of glimmer. With bead and sequin-embroidered dresses, you get a gorgeous blend of shimmer and softly sweet details.
5. Versatile. It's a design feature that's appropriate for just about any occasion, and embroidery isn't only for dresses! Did you know, even your dress accessories can be embroidered? Imagine the fun you can have mixing and matching between embroidered accessories and embroidered dresses for casual, semi-formal, and formal events!
6. Beautifully textured. Naturally pleasing to the eye, embroidery can appear soft and delicate or intricate and layered. Many embroidered dresses even mix textures for the ultimate visual appeal. For example, a chiffon dress with floral embroidery combines a soft flowing fabric with the texture of the embroidered pattern. Sequin-embroidered dresses beautifully blend the sparkly and firm feel of the sequins with the intricate detail of the embroidery. Since embroidered appliques can accent almost any fabric, from tulle to satin, there are many eye-catching textures to explore.
Now that you're ready to give in to the embroidered dress trend, it's time to shop for your favorite style! Check out the embroidered gowns available at PromGirl to find a design that's just right for you.