Color-Coordinate for Prom: Dress & Date Ideas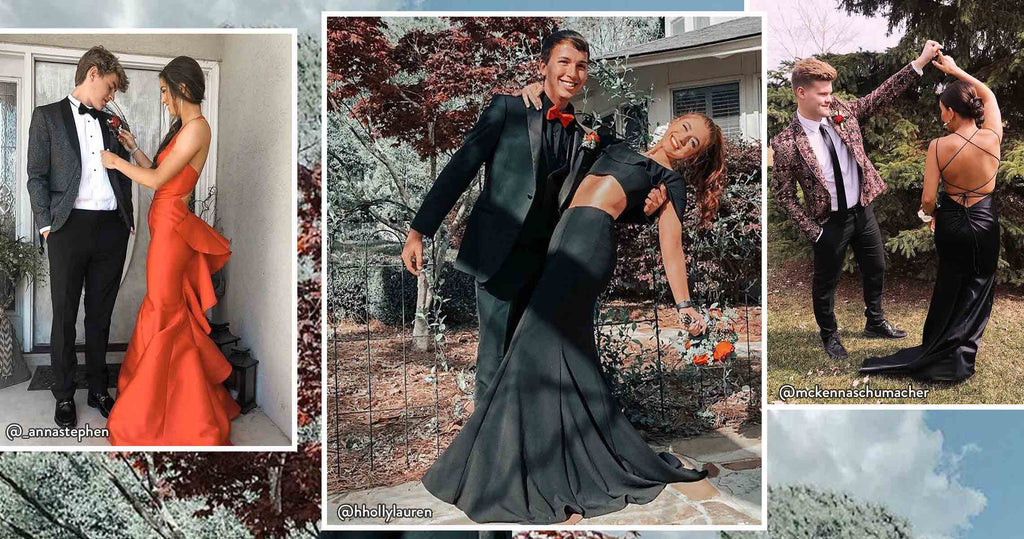 Scored the prom date of your dreams? Awesome! What better way to let everyone know you're a couple than wearing matching outfits? Follow these quick and easy tips on matching your prom dress and date's attire to create Insta-worthy prom pics::
1. Rock the Same Shade:
Matching the shade of your prom dress to the traditional tie, vest, cummerbund, or pocket square creates an overall unified look that says: "He/She's with me!" Once you've chosen your prom dress color, it's key to share your color choice with your date. Let's be honest, dress colors today have interesting names and not every navy blue is the same. So, avoid any confusion around which shade of mauve you'll be wearing, or what the color boysenberry actually is! Going with your besties? Choose a color everyone loves and form a collective look by color-coordinating for prom. Then, each girl can select her figure-flattering, favorite prom dress style in the chosen shade.
2. Pick a Print or Pattern:
If you want to add a little pop to your prom attire, choose a prom dress in a vibrant print or one with a bold pattern. Your date, if wearing a tux, can match the print or pattern by simply picking a bowtie, tie, or vest in the same pattern. If that's too loud for your date, opt for an accent in one of the colors found in the print or pattern to coordinate your looks. Attending prom with your girl squad? Everyone can pick their own favorite color and the daring fashionista in the group can wear a print prom dress that incorporates all the hues to unite your clique.
3. Choose Complementary Colors:
Let's face it. Not everyone wants to be matchy-matchy on prom night, or maybe your favorite color just does not appeal to your date. No problem! You can still manage a cohesive look as a couple with complementary colors. Another great example of how to match your prom dress and date's attire is to pair a light blue prom dress with a trendy navy tux, a light pink prom dress with a classic gray suit, or a hot red dress with a traditional black tux.
4. Keep it Classic:
Never underestimate the elegance of a black, white, or neutral prom dress, or the sophistication of a sharp black tuxedo or crisp white tux. These staples in the fashion world are ideal for coordinating for prom and really allow your beautiful prom dress to take center stage. Likewise, this classic fashion trend also grants you the ability to coordinate with accessories. Rock those bright blue heels that match your date's blue tie, or match your date's red vest when you add a burst of red prom jewelry or a red corsage. Speaking of flowers, read on!
5. Finish with Flowers:
Add a splash of color and easily coordinate with your prom date by adding prom flowers to your attire. A complementary corsage or boutonniere is the perfect accent to a beautiful dress or handsome tuxedo. Check out the Prom Guide for more advice on prom flowers.
Follow these tips on matching for prom to skip the pre-prom stress! Whether you prefer to play with prints or show up in the exact same shade, planning how to color-coordinate for prom is the perfect way to bond with your dreamy date! For more info on the topic of matching your prom date's outfit, be sure to check out the Prom Guide