What to Do If You Can't Wear a Bra with a Dress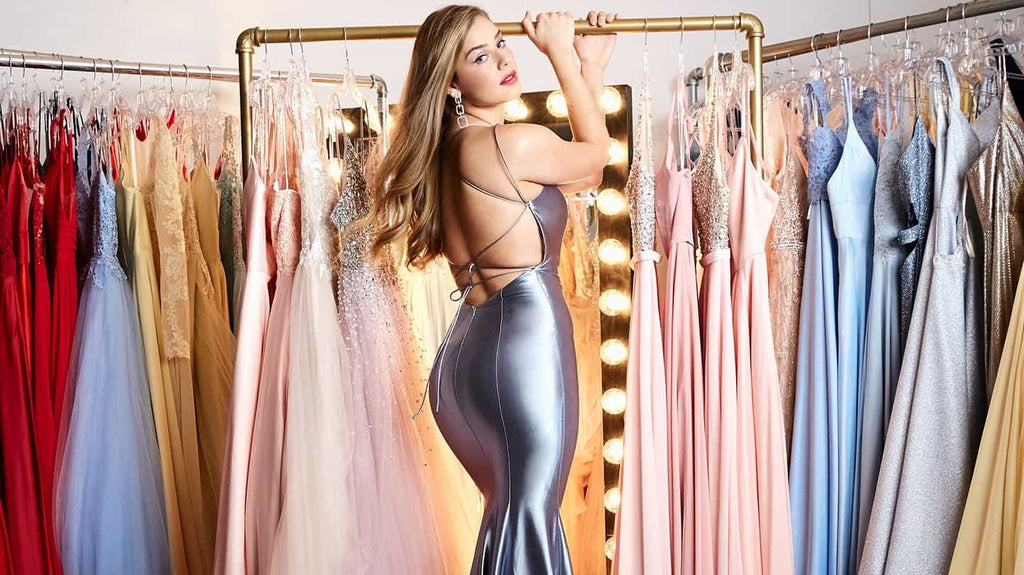 Did you fall in love with a dress that doesn't allow for a standard bra (or you just can't stand how uncomfortable they are)? Dresses with one-of-a-kind design features, such as plunging necklines, sheer sides, or open backs, all require solutions that are just as unique so you don't have to worry about a bra strap ruining the look. But have no fear! PromGirl is here with 5 tips on how to wear a dress without a bra!
1. Choose a dress with built-in support.
The easiest solution to nixing the bra is to buy a dress that has built-in support. Built-in bras can range from simple padded cups, to wire cups, to full boning in the bodice. Another great option is to find a dress with a corset-style back that can be laced up for a secure fit. A dress that fits perfectly leaves no need for a bra.
2. Sew in bra cups.
Need support, but your dress doesn't have any built-in? No problem! You can buy bra cups and sew them in yourself! Or, have someone sew in bra cups for you. There are bra cups that range from light padding to full gel push ups, so you can pick which bra cups fit your needs best, and voila! A great bra alternative for your dress.
3. Use stick-on bra cups.
Stick-on bra cups come in different styles. Some have adhesive on the cup itself, while others have sticky wing adhesives on the sides of the cups (but the cups themselves aren't sticky). The ones with sticky wings tend to provide a little more support. An advantage to stick-on bra cups is that they often can be washed and reused. This means that once you buy a stick-on bra, you can re-wear it with multiple open-back dresses and strapless dresses. Pro Tip: Make sure you don't have any lotion or body oil on before applying the stick-on bra, or the cups may lose their stickiness and fall off. Talk about an unwanted wardrobe malfunction . . .
4. Get crafty with tape.
There are different ways you can tape your bust in order to give the illusion that you are wearing a bra under your dress. Taping vertically over your bust provides more support, where as taping horizontally across your bust can provide a little lift. Which way to tape is up to you and the neckline of your dress. Warning! Not all tapes are created equal. Be sure to use a tape that is gentle on the skin and will come off easily with warm water. To be safe, you can cover the sensitive areas of your bust with padding or adhesive pads under the tape to protect your skin. It might be a good idea to test the tape on your arm before applying to your bust area to make sure you won't have an allergic reaction (Ouch!).
5. Go confidently braless.
If you put your dress on and feel comfortable in it, does it really matter if a bra is involved? Try it on and dance around a little. Are you secure and still put together? Sounds like your bra dilemma is a non-issue! Put on that backless dress, halter-top dress, or caged-back dress, and let your confidence give you all the support you need!
The main takeaway? Never let a bra determine whether or not you should wear a dress you love! Sometimes you can wear a dress without a bra, but if going braless is not an option, follow one of the other 5 tips listed above on bra alternatives for dresses.