Accessories: What to Wear with Backless Dresses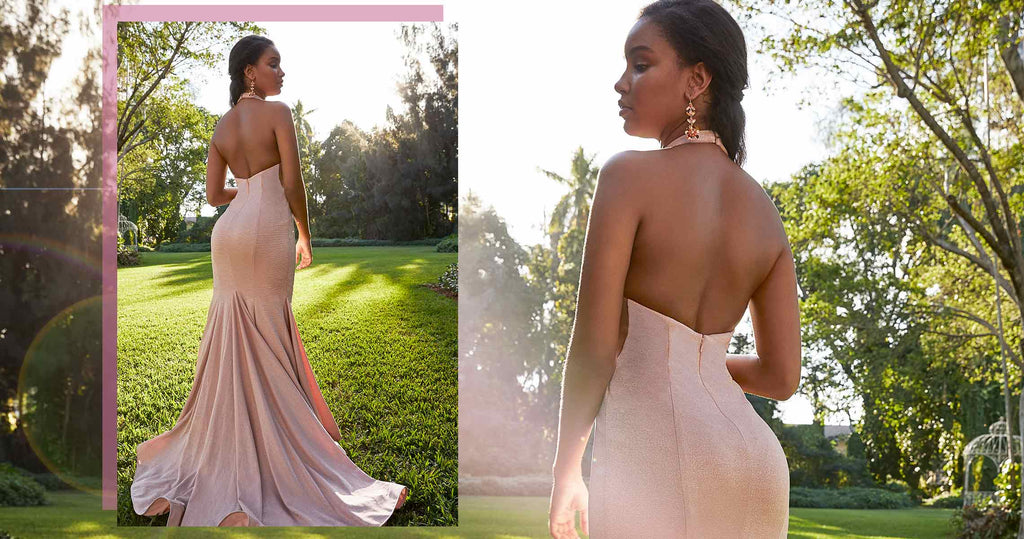 You're ready to go bold and daring with your stunning backless dress, but now you're wondering how to accessorize? Backless dresses are statement pieces, so there's no need to go all out with extras. When it comes to what to wear with backless dresses, it's all about letting your dress do all the talking. Here are four tips on accessorizing dresses without backs:
1. Use simple accessories
Small shimmering stud earrings and a dash of sparkle at the wrist from a matching bracelet is just enough to complement your look without drawing the eyes away from your backless dress.
2. Choose just one glam piece
When you want more glitz to your look, try to stick with one captivating piece of jewelry to avoid drawing too much attention away from the drama that is your backless dress. A fancy waist belt can help define your figure and dress up the front, or a pair of glittering chandelier earrings can draw the eyes up. A gorgeous back-drape necklace or back-drop pendant will add a little shimmer at your neckline while enhancing the breathtaking effect of the backless design.
3. Keep it clutch
Big and bulky handbags draw attention, so stick with a small clutch-style purse when wearing backless dresses. A small handbag in a neutral shade easily blends in for daytime wear, while a metallic clutch can upgrade your look for a formal evening affair.
4. Opt for the Updo
If you've got long locks, why cover up a stunning open-back design by letting your hair down? Go for a style that sweeps your hair up and gives full view of your backless dress.
When it comes to choosing accessories for backless dresses, always keep your dress in focus. If you find that your jewelry or handbag take centerstage when added to your ensemble, it's best to swap out your accessories. Whether you choose to keep it simple by leaving the jewelry at home or go for a bit of sparkle to enhance your look, walk confidently out the door knowing that your exit is sure to be a head-turning one when wearing a backless dress.