3 Tips for Accessorizing Strapless Prom Dresses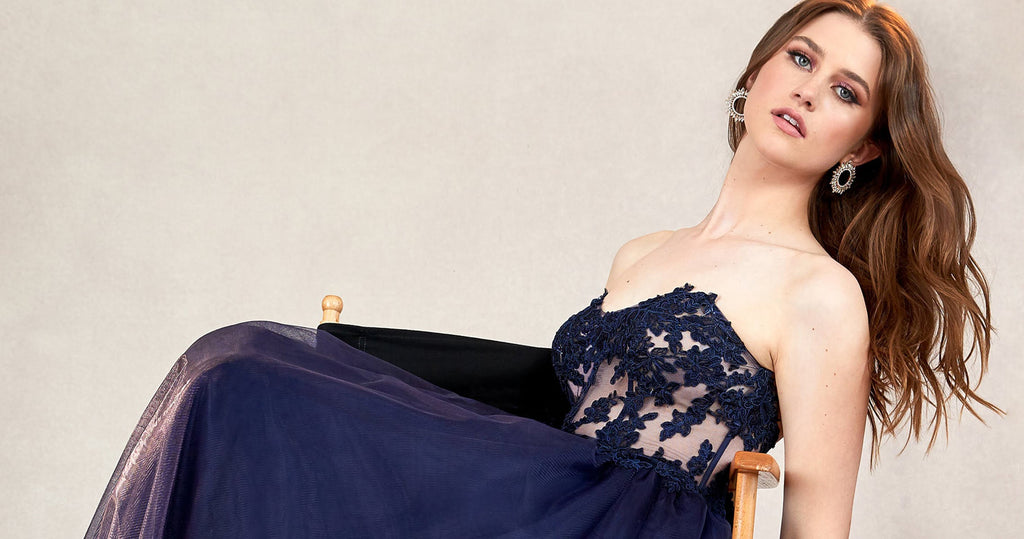 When it comes to accessorizing strapless prom dresses, you want to make the most of the classic neckline and coordinate your pieces carefully. Prepare yourself with the following 3 tips on what to wear with strapless dresses, and you'll be all set to put together your dream prom attire.
How to Accessorize a Strapless Prom Dress
1. Picking Jewelry: When it comes to picking jewelry for a strapless prom dress, the key is to avoid bare lobes and shoulders. If you prefer earrings, you can absolutely skip the necklace and go for dangling or hoop styles that flow towards the shoulders. If necklaces are more your vibe, remember that your necklace will be on full display! Go all out with a statement piece or simply wear a design you love. Either way, everyone will be able to admire your necklace when you go strapless! If you go for both a necklace and earrings, you'll want to coordinate those pieces well. A cute matching set, for example, can really bring your outfit together. Want to skip jewelry entirely? Consider focusing on a coordinating shawl or wrap for your shoulders.
2. Coordinating Layers: Since your shoulders are bare in a strapless prom dress, you'll want to consider some kind of coverage for a chilly day or venue. Depending on how cold it might get, you could go for a shawl, wrap, sweater, or dressy jacket. Whichever layer of warmth you choose, you'll want to make sure the color or pattern of your strapless prom dress complements your chosen layer. Cover-ups in neutral tones, black, or white go great with strapless prom gowns that already have a vibrant hue or striking pattern. On the other hand, if your gown is neutral or metallic, a shawl or jacket is the perfect opportunity for a bold splash of color (especially if the color matches your purse or shoes too).
3. Planning for Undergarments: Prom dresses without straps can make it tricky to "hide" a traditional bra, so you'll want to look into some alternatives. Need extra support beneath your strapless prom gown? Consider a strapless bra, corset bra, or bustier. If you're more concerned about coverage than support, body tape, an adhesive bra, or pasties will do the trick! Decide in advance which undergarment will work best for you in terms of comfort and function.
Now that you've got these tips for accessorizing strapless prom dresses, you're ready to prep a stellar outfit for prom! Still searching for your favorite strapless prom dress? Be sure to check out the strapless styles at PromGirl, then accessorize to your heart's content!