This or That: A-Line Dresses vs. Fitted Dress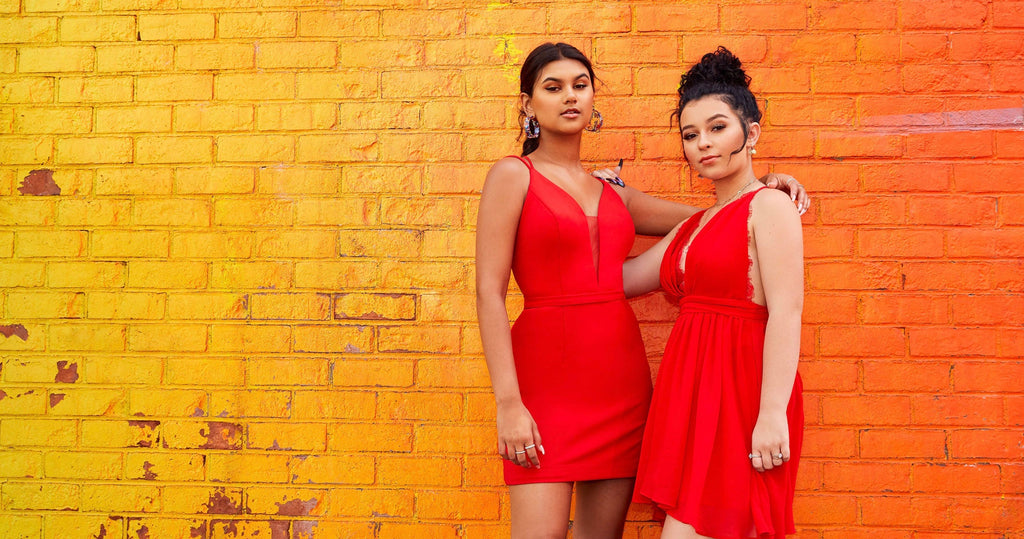 When it comes to silhouettes, a-line dresses and fitted dresses are two of the most popular by far. But which design comes out on top for you? PromGirl took a closer look at the flowy a-line style and tight sheath dresses to discover the top reasons you should wear each one. Read on to check out the perks for a-line and fitted dresses.
THIS: A-Line Dress Perks
Super Flattering: A-line dresses have a fitted bodice that accentuates a curvy bust, a cinched middle that highlights the waistline, and a flowing skirt that enhances the curves around the hips. Add all of that together and you've got a flattering silhouette that's perfect for any body type!
Fun & Flirty: The flowy skirt on a short a-line dress (aka a fit-and-flare dress) makes it perfect for twirling and dancing. With all of that sashaying and swirling you'll be doing, you'll definitely be giving off a fun and flirty vibe!
Practical: That loose skirt makes it easy for designers to include pockets, so many styles include them now! Even ball gowns! Having pockets in your a-line dress makes it a cinch for you to keep your phone close at hand so you can snap those photos all night long.
THAT: Fitted Dress Perks
Curve Defining: Fitted dresses are all about showing off your figure. The fabric will hug and define your natural curves, so you can step proudly and confidently in this style!
Sultry: The streamlined silhouette of a sheath dress or mermaid gown is perfect for a mature, "no frills" look. You can strut your stuff and confidently boast a sultry vibe.
Trendy: Did you know that tight dresses are the latest trend for school dances? You're sure to see a lot of them this year! If you like joining in on the popular styles each season, then you'll want to go for a bodycon dress.
So when it comes to a-line or fitted dresses, which is your favorite? This or that? If you're a diehard fan of the classic a-line silhouette, be sure to check out the
a-line prom and homecoming dresses
available at PromGirl. Did you fall head over heels for the fitted styles? Then you'll definitely want to explore the tight prom and homecoming dresses found in the
sleek and sexy section
at PromGirl.